What are the Best Survival Skills to Learn?
This should be an easy question for any survivalist to answer, and a question that all outdoor enthusiasts should be interested in.
As you continue to read, I want you to appreciate the importance of knowing these skills, and of carrying the very basic tools and things, you will need, in your backpack. I want you to understand how things will turnout for you, if you are inexperienced and ill-equipped.
I will begin with my list of the most important skills required for all environments, and then I will describe how some skills are more important than others, on your first night alone in the wilderness.
If you are Experienced and Well Equipped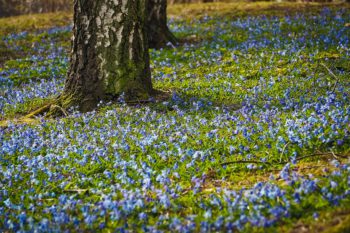 If you are experienced and well equipped, spending a night in the wild is a rewarding and satisfying event. That is the primary reason you are there. I have spent many nights alone in the bush, so I know exactly how I am going to go about doing this.
I do not recommend hitting the bush alone to anyone, especially if you are inexperienced.
First of all, I am prepared mentally for the experience, and secondly, I am properly equipped to do so. Further along, I will provide you with links on how to equip yourself for this event. 

My number 1 skill, the number one priority, that you must have to survive your first night, is your Attitude. You must have a … burning desire to live.
If you are Inexperienced and Poorly equipped
There is no intelligent reason for you to be in the wilderness alone, or with similarly inexperienced friends or acquaintances, if you are not properly equipped. This is the worst case scenario.
You have no skills, no experience, AND … you don't know where you are. That's why you are lost!
Sounds more than a little bit crazy, but every year thousands of people leave the comfort of their homes, and vehicles, to spend the day, hiking along a river, across a plain, or up a mountain.
Many don't make it back. The statistics confirm what I am telling you. This is the purpose of my message for you.
Inexperienced and poorly equipped "fun seekers" often end up in trouble, and find it very hard to extract themselves from these situations.
The Best Skills to Learn
These are the best skills for you to learn, and in their order of importance.
1. Attitude, … A Clear, Focused Mind, and the Will to Live
Most people have never spent a night ALONE in the wilderness, and their first night alone, is often the first time they get lost.
The first time you are lost, on a cold, dark, rainy night in a forest, may be your last time.
This is not a pleasant thought to consider, but this is the real world, no BS stories will be accepted here.
This is why I consider "attitude and the will to live", as the most important skill to survive your first night. If you can survive your first night, you may just make it out alive.
Am I trying to scare you? Not really, … I'll leave that to Stephen King or Alfred Hitchcock.
I want you to realize the gravity of this situation, so that hopefully it does not happen to you, but if it does happen to you, you will know how to get through that first night.
It will be worst than anything you can imagine, sitting in front of your computer screen, especially if you are ill-prepared.
Remember that your attitude is number 1, and that the next thing, number 2, is to build yourself a shelter.
A few tips
inexperienced, sit down and think for a moment, you must remain calm
experienced and equipped, take a break, have a drink and get ready to spend the night
2. Shelter, … How to Build Yourself a Shelter
If no one is hurt, or in need of medical assistance, your first concern is to build yourself a shelter.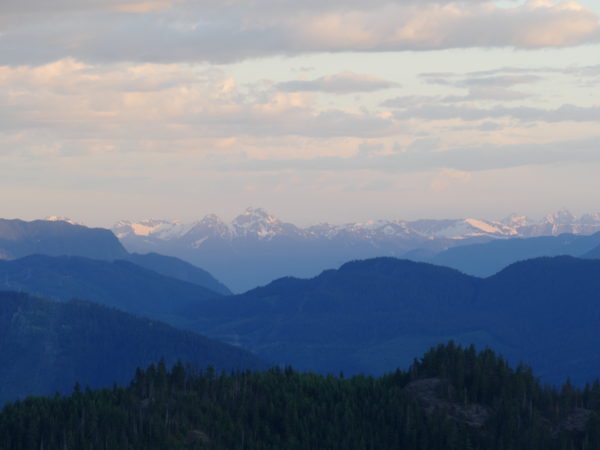 My playground is the wilds of British Columbia, Canada. To be more specific, the Coastal Mountains and the Interior Plateau. I also visit the Boreal Region quite regularly.
Everyone who lives in this part of the world, knows why the trees grow big and tall. RAIN, and lots of it. I would like to add that there many warm, sunny days that easily convince us that this is one of the most beautiful places on Earth.
When the sun has slipped down below the mountain ridge you are staring at, it gets cold and dark very quickly. If you have brought a  headlamp with fully charged batteries, light won't be an issue.
At some point, you will realize that you are lost, or too far from your vehicle to get there, safely. Do not Panic! Sit down and assess your situation. How are YOU going to make it through the night?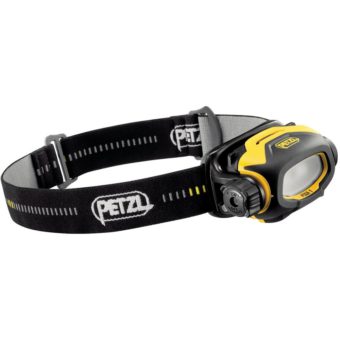 I want to emphasise the importance of having a quality headlamp with extra batteries. A quality headlamp will light-up your path, and you may be able to safely make your way to your vehicle, if you know how to get there.
A few tips
inexperienced, carry an emergency shelter, they are lightweight and just what you'll need to maintain proper core-temperature. they are easy to slip into, and many have reflective surfaces for heat retention. get one that is Orange in color, it can also be used as a signalling device in the daytime
experienced, carry the above, a tarp and paracord. you've done this many times before, so get a good night's sleep so you can enjoy your stay in the outdoors
Rope is a must carry.
I use to carry any type of rope that I had hanging around, but these days I carry TOUGH-GRID 750 lb paracord. Why? Simple.
It is made to meet or exceed the U.S. Military's Mil-C-5040H specifications, and it breaks down into 13 strands that have many uses.
3. Fire, … How to Build a Fire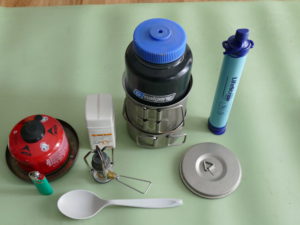 Fire will warm your body, boil your water, and cook your food.
In addition to this, fire will provide a positive and refreshing psychological boost, and bring a good feeling to your night in the wild. It can also deter predators, such as bears, cougars, and wolves.
They live in the mountains, along the rivers, and in the valleys as well.
I have never been attacked by any of these denizens of the wild, but I have had a few close calls. Sitting by a fire with the flames dancing up into the sky is something that everyone should experience in their lifetime.
When you spend your first night alone, you will hear many noises and sounds, that will play tricks on your mind.
You will not know who or what is making theses sounds, or where they are coming from.
Time and experience will enable you to identify these noises, and alleviate your fear of them.
A few tips
inexperienced, carry "firestarter sticks", they only are 6 ounces in weight, then add a Bic Lighter and a ferrocerium rod to complete you kit
experienced, carry the same, you know that fire is your friend
4. Water, … How to Find Safe Drinking Water
If you are carrying a water bottle in your backpack, you've got this one covered. Do not run around the landscape in the dark looking for water. This is best left for tomorrow when it gets light.
I always carry a LifeStraw Personal Water Filter. It weighs only 2 ounces, and solves your water issues.
Add to this, a small pot or an army canteen cup, to boil water and make a drink.
Add a few packages of instant coffee, tea, hot chocolate, or dehydrated meals in a pouch. Weighs less than a pound, and the psychological boost will be much greater than its food value.
Investing in a small pocket stove is an excellent idea. Light in weight, you can get a hot drink to warm your hands and body much quicker than with your fire, especially if it is raining hard, and you have very little experience building fires, in the dark, on the side of a windblown mountain.
Drinking a warm drink by the fire, near your shelter increases the odds in your favor, by a factor of 50.
5. First Aid, … How to Treat Injuries
When no one is hurt, First Aid is not an issue.
Take the time to enjoy Nature, stopping often to look at things, and being in the right frame of mind, is a safer way to travel.
Everyone should consider taking a First Aid course.
This knowledge is easy to carry with you. It weighs nothing!. You'll be surprised at how much you can learn, and remember in a 1-day course.
Is your safety and well-being worth a few dollars and one of your precious Saturdays?
You may even be able to use it to assist a family member or friend.
6. Dangerous Situations and Predators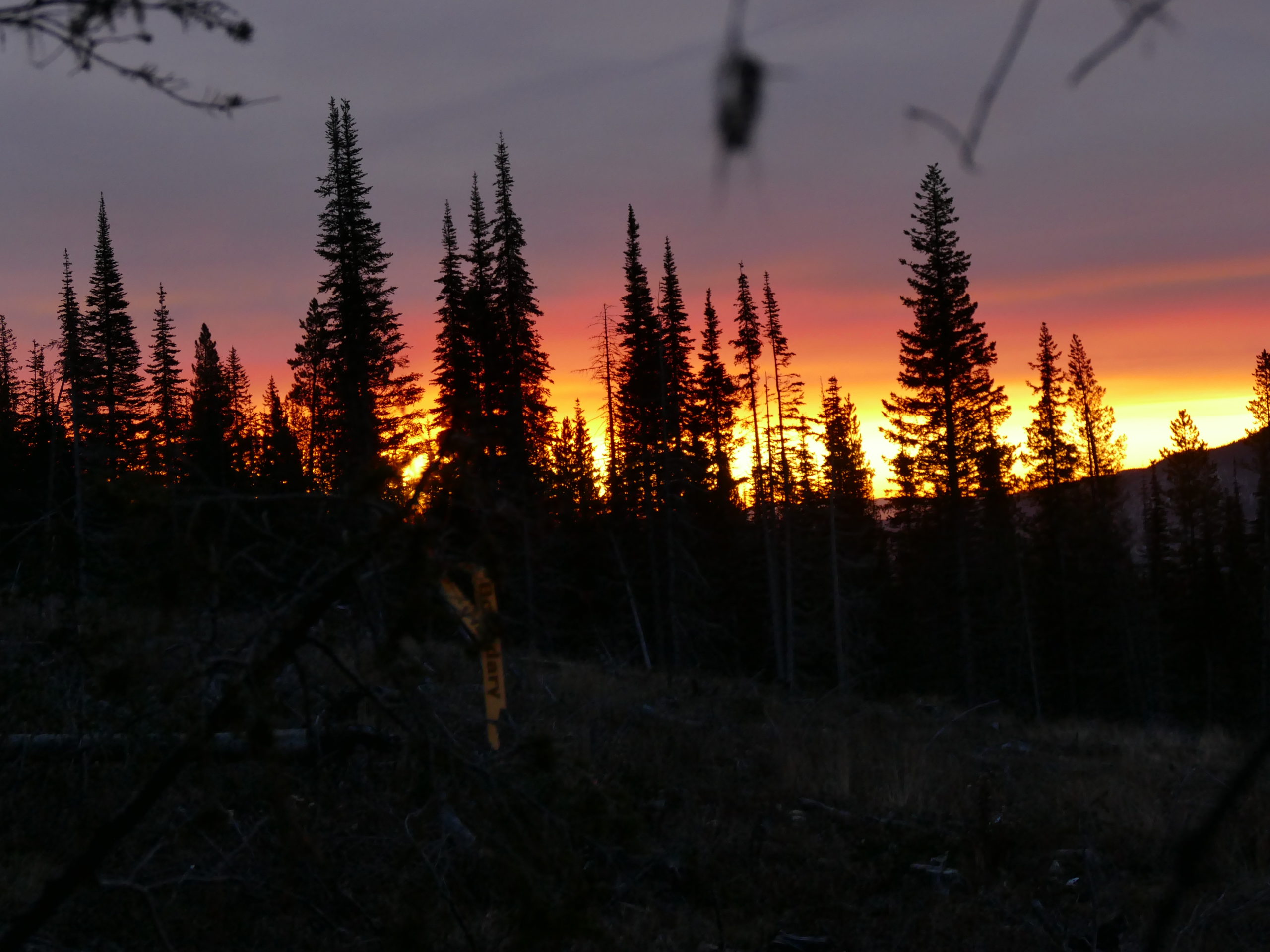 Be aware of your surroundings. Unless you have spotted a bear, a mountain lion, or wolves, following you, this danger may only be a figment of your imagination. Your fire can help you here as well.
A few tips

do not set up camp too close to a creek or river, … flash flooding
do not set up camp near a cliff, … falling rocks
in the forest, beware of "widow-makers", … these are branches or trees that can fall on you from above, and cause serious damage to you or to someone in your party
7. How to Signal for Your Rescue

Save this for tomorrow, after you have had a good night's sleep.
A large ORANGE garbage bag, your ORANGE Emergency Shelter, a whistle, and a signalling mirror, add less than a pound to your pack.
All of these are excellent additions to have in your backpack, and they are lightweight, and practical tools for signalling your presence to a rescue team.
8. Navigation, … How to Find Your Way Back Home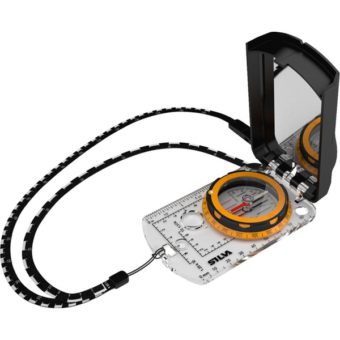 A map and compass. How many times do I have to say it!
If you have a map and compass, finding your way back home, or to your vehicle is going to be a lot easier than if you don't.
Have you told anyone where you are going? If not, … why not?
9. Food, … How to Find Food

Your first night alone will be more pleasant, if you have some snacks to nibble on through the night.
If not, no big deal, you can survive for weeks without food, don't worry about your stomach, and  focus on the first 5 items only, … for the first night, … and you will make it through to the morning.
Besides, you may be a few pounds overweight and the experience may help you value what you place in your gut.
To Sum it all Up

Attitude, … Shelter, … Fire, … Water, … and … First Aid. 
These are the 5 most important skills that you must know and manage, to get through your first night.
Nature doesn't care about your feelings! Give your head a shake, and be aware that someone is expecting you home soon.
Hopefully, you've told someone where you were going.
Rewilding is serious business. If you do it properly, it is one of life's inexpensive pleasures.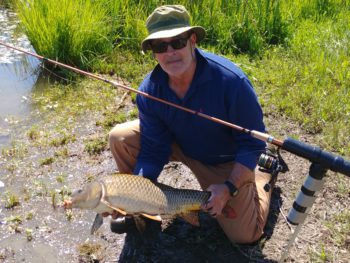 An opportunity to enjoy all that Nature has to offer. It can open you to numerous activities such as photography, fishing, backpacking, gold-panning, and botany.
The list is too numerous to mention. Perhaps you have your own fields of endeavor.
Do not hesitate to Contact Me with your questions and concerns