What's in YOUR Outdoor Survival Kit?
The best Outdoor Survival Kit is what you need in your backpack the next time you leave your vehicle to go on a hike, to go fishing, hunting, or gold panning.
A survival kit is essential to have, and to bring along. There's no point having a kit that's too heavy, or too bulky to carry.
It is a list of items that will make your emergency overnight stay in the bush, or on the mountain, safe and bearable.
What are the essentials to have in your outdoor survival kit?
I design all my kits with a purpose. I spend most of my time in the mountains, or along the rivers and creeks that bisect these mountain ridges. My mountains, are not the Alps, and they are not the Himalayas, they are the Coastal Mountains, or the Northern Rockies, of British Columbia.
I get lots of questions about what to include in a survival kit and I always begin by asking the individual where they will be using this kit and what time of year it will be used. The reason for this is because I make small adjustments to my kit according to the seasons. Where I play, there are only 2 seasons- summer and winter.
Having said that, let me list the items that I carry, and that I consider essential. Here it is!
1. an Emergency Shelter
I always place shelter in the number 1 position because where I roam, there's always enough water for drinking and cooking. That's how much importance I give to shelter. An emergency shelter is necessary to get you out of the weather and maintain proper body temperature.
If you are lost, or simply unable to get back to your vehicle after a day in the outdoors, a warm and dry shelter, will make your overnight stay pleasant and safe. There are many inexpensive, and lightweight, commercially available shelters on the market today, but nothing beats my tarp for making a shelter for myself and my fire.
Click on all my links to view some of the examples that I use, and have used over the years. I consider these safe, and adequate to keep you alive and get back home safely.
I prefer to carry a 3 meter x 3 meter tarp. A piece of 10 feet x 10 feet construction grade, 6 mil poly, also fills the bill. If you're new to building shelters, get this shelter, but carry the tarp or poly, and learn how to build a lean-to or a cover with this material.
Don't wait until you get lost or when it gets dark to practise.
2. A Knife
The knife is the most important tool you need to carry that you cannot manufacture in the bush. Making a knife is not an easy task, so bring one along.
You don't need a Crocodile Dundee knife, but I prefer a good quality fixed blade and a second folding blade of excellent quality.
3. A Firestarter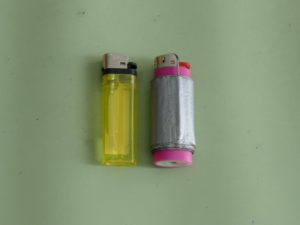 A firestarter is just that. You need one to get your fire started, to keep you warm and to boil water for purification. There are many inexpensive firestarters available. The easiest way to acquire one to purchase a pack of see-through Bic Lighters.
I wrap Duct Tape around one of my lighters and add a heavy sewing needle under the last few wraps. I my small tools pouch, I throw in a small packet of dental floss. These 2 small and lightweight items become a reliable sewing kit.
I carry the see-through versions because I can see how much fuel remains in my lighter. When you see fit, you can add a ferro-rod to this part of your outdoor survival kit.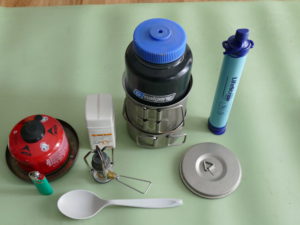 4. Water
Water and proper hydration is an essential for life. Fortunately for me, finding water is seldom a problem. The life ensures that I can have a drink a cold, safe water, as soon as I find it.
A water bottle that nestles into a small pot is next on the list.
A 1-liter see-through Nalgene water bottle, nestled into my Snow Peak titanium pot.
Throw in a LifeStraw and you've got safe drinking water.
Another great combination, is the classic U. S. Army canteen complete with a stainless steel drinking cup. Army Ranger tough and built to last.
5. A Headlamp
It's going to get dark, but you've never experienced darkest like when your lost in the middle of a forest after the sun has gone to sleep.
A headlamp is more useful than a flashlight because it frees your hands for other things. I prefer a waterproof model and don't forget extra batteries.
Today's flashlights are powerful and tough. Carrying one is an excellent backup for when the SHTF.
A good practice is to keep your batteries in your small pouch (see number 10. below), and out of the headlamp or flashlight, just in case it gets accidently turned on, and you find your batteries DEAD when the time comes to use them.
You need a small first aid kit that contains the basics for cuts, bruises, blisters, twisted ankles, and broken bones. A small kit can accomplish all these things when properly supplied.
I recommend a St. John Ambulance kit or some similarly supplied kit.
It should contain a small manual to help you with the basics. Have a look at what's in it so that you can add or subtract items as necessary.
7. A Compass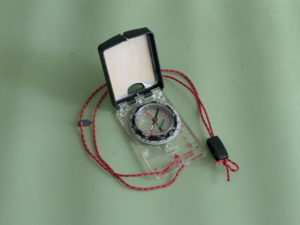 Better yet, a map and compass. If you're spending the night in the bush because you've ventured too far to get back to your vehicle safely, that's not too bad.
Tomorrow when the sun gets up you can make your way out.
But if you're lost because you can't find your way out, that's a bigger problem. I suggest you read my post on the map and compass before you leave home for some wild adventure into the wilderness.
8.  A Whistle
A whistle is a signaling device used to attract the attention of the people who will be looking for you.
This brings up a very important point. You have told someone where you were going, right!
Great. Remain calm, don't go running around like a chicken with its head cut off. This is the easiest way to get hurt.
Help is on the way!
9. Rope and Duct Tape
Rope, string, and Duct Tape can fix pretty much everything. Very handy to have and inexpensive to buy. You have some around the house to get you supplied. If you don't, mil-spec U. S. Army style paracord is a classic addition for all outdoor survival kits.
10. A Small Tool Pouch
This is the small pouch I use for organizing my rope and tape, firestarters, my compass, the whistle, a small knife sharpener, sewing needle, dental floss, etc… Add your meds, eyeglass repair kit and any essential that is specific to YOU!
All of this fits into a rugged daypack snugly fitted to you, and weighs way less than 5 pounds. A excellent insurance policy to get you back home safely.
Don't Panic, and you will get through this just fine!
Tips on how and where to begin
you have many of these items around the house
item number 1, is the tarp and/or an emergency shelter
item number 2, is the first aid kit, and
item number 3, is your small pouch of essentials
these 3 components easily fit into your backpack, and weigh less than 5 pounds
it's as easy as 1,2,3 …
easy to access
well organized
lightweight
easy to find in your daypack
stay away from cheap and inadequate pre-made kits
Something to Think About
The best Outdoor Survival Kit is the one that YOU build for yourself.
All these items can weigh as little as 3 to 4 pounds, depending on your choices. You will be pleased that you have brought them along, if you ever have to spend a cold, rainy night on the mountain.
There are 2 schools of thought on survival kits that I am familiar with.
The old-school method, is to build a small lightweight survival kit, that includes small items, that are stuffed into a small pouch, that you stuff into one of your pockets. The lightest model and easiest to carry.
My new-school version of this kit, is an improved system based on the fact that modern day adventurers almost always carry their stuff on their back, in a backpack. This allows for better quality items that are much more practical and useful. I don't want to cut rope or firewood with a tiny knife, or string saw that fits in a sardine can? Just the thought of it drives me crazy.
I have worked with professional grade tools all my life, and I prefer real tools that won't let me down in an emergency situation.
I don't fancy small useless tools that fit in a small can or metal box.
Iwelcome you comments, questions, and suggestions. Contact Me at this link. I look forward to hearing from you soon. Exchanging ideas is always productive and powerful.
Happy Trails!