Leatherman Wave Accessories
A short while ago I wrote a review on the Leatherman Wave +. One of the many reasons why this multi-tool is so popular is the tool itself, but let's not forget the huge variety of accessories that can be added to it, to increase its functionality and effectiveness as an outdoor companion.
The Leatherman Wave + is a classic multi-tool. Not only does the Leatherman Wave + multi-tool bring 18 popular tools into the game, but, these 18 tools can also be accessorized with a multitude of other useful gadgets.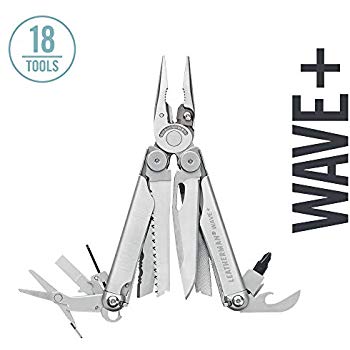 Why is it so popular?
Its popularity is due in large part to its toughness, durability, and the multitude of accessories that are available to increase its functionality. 
Everyone that I know who has one, values the fact that it is so practical and useful. 
A Mechanical Draftsman and Carpenter by trade, I have spent my lifetime building and fixing things.
Many of my close friends are builders and fixer-uppers and about half of them own a Leatherman Wave.
The others are often borrowing one from a friend. Every season, we manage to convince one or two more guys to get their own.
More tools for you!
Let's start with the Leatherman Bit Set Kit
This is a 42-piece bit kit set contains 21 double-ended bits. You can use this bit kit with all tools and knives that have bit drivers and the Removable Bit Driver Accessory.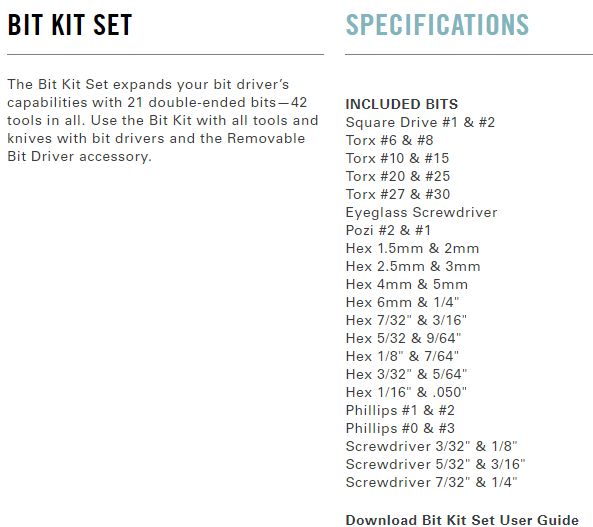 Download Bit Kit Set User Guide
The Bit Driver Extension Tool
The Bit Driver Extension Tool is used to extend your reach and fits into the bit holder on any Leatherman knife or tool. It accepts all Leatherman bits and ALL standard ¼ inch hexagonal bits.
The Bit Driver Extension Tool is very useful when trying to get to recessed screws. This driver really holds the bits in, good and snug. It can be a little difficult to get the bits out at first, but this is not really a problem, in fact this holds the bits well, and it is a good thing, in my opinion. You won't have to worry about losing any bits like this.
It also takes Hex bits as well, another huge plus that adds even more versatility to this tool.
The Extra Large Black Molle Sheath
An extra large black Molle sheath, to keep your Wave and all your accessories, safe and secure.
The Molle Sheath is made from tough and durable ballistic nylon. It features a hook and loop closure, and a snap webbing strap for attachment on the back.
Imagine how much more you can do with your multi-tool now. In today's tech world there are so many things that come assembled with screws and fasteners, that having the right tool at hand, with easy access, is a real game-changer.
The Extra Large Black Molle Sheath is the perfect safe haven for this tool. I prefer a tough case to protect my investment, and that's exactly what this Multi-tool is. Properly cared for, and with its 25-year Limited Warranty, this tool should last you a very long time.
A few of my wilderness friends prefer the leather sheath, but I'm happy with my Molle nylon sheath. You will need the extra large sheath to carry the bit kit.
There are also replacement wire-cutters, replacement saws, and replacement eyewear bits. 
Replacement parts are specific to your model of Leatherman. 
Product Name                                                
Name:  Leatherman Wave Accessories
Website:  www.leatherman.com/the leatherman wave +
Price: varies for each model.
Best Place To Buy: Amazon.com
My Overall Rank: 98 out of 100
A Classic
Tools and gadgets are a major part of doing things. As a matter of fact, they are an absolute necessity. Throughout history, tools and our ability to create them, and use them to our advantage, are without doubt, what has accelerated our advancement and progress as a species.
My Conclusions
I am undoubtedly biased with my opinions on The Leatherman Wave + Multi-Tool.
As Construction Business Owner and Contractor, I own and possess, literally thousands of tools and accessories.
Saws and saw blades, chisels, jig saws and their blades, wrenches, hammers, wire cutters, and the list goes on like the shelves of a tool provider store. Anyone doing renovations or automobile mechanics can understand where I'm coming from. I was going to say that I probably have more tools than the Kardashians have shoes, but I won't.
What I will say is this. The Leatherman Wave + Multi-Tool is a very complete and useful tool. Add the fact that there are numerous accessories to increase its functionality and you've got a real winner.
My biased opinion is shared by many Leatherman Wave tool owners. The numbers prove this beyond all doubt. The 25-year limited warranty only adds to my case.
One day you may need a multi-tool, … and when the time comes, be sure to give this one, and all its accessories a very good look.
If you have any comments, questions, or suggestions about this tool or its accessories, you can Contact Me at your convenience.
I love to read comments from artisans and adventurers, and I'm still able to answer them all.