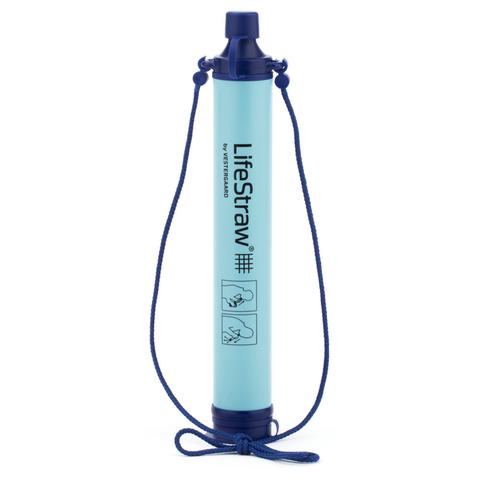 I spend a lot of my free time in the outdoors. Over the years, I've purchased and used, all shape and type of tool, gear, and equipment that I thought could be useful in improving my outdoor experience and making it safer.
I say, with bias and prejudice, that the LifeStraw is at the very top of my list.
Product Description
The LifeStraw is very much like it sounds. It is a straw-shaped water filter that is ultralight-weight. Weighing only 2 ounces, it is easy to carry, and easy to use.
It will filter approximately 1000 litres of water.
This is more water than the average person drinks in a year, while in the outdoors. This water can vary in the degree of contamination, and the LifeStraw will make it safe for you to drink.
This eliminates your need to carry huge volumes of water when there is water in the environment you will be camping, hiking, or adventuring in.
Now you can drink from rivers, streams, ponds, lakes, and glaciers. With a LifeStraw, you can access safe drinking water from just about anywhere.
Great addition for international travel and for your emergency preparedness kits.
Product Details
Name:  LifeStraw
Dimensions:  7.9 x 0.8 x 0.8 inches
Weight:  5 ounces
Best Place to Buy:  Amazon
Price:  $14.96 plus $5.87 shipping & import fees, … solve this with Amazon Prime
Average Customer Review:  4.6 out of 5 stars,  7643 reviews on Amazon
Amazon's Choice for Survival Gear
The Good, the Bad, and the Ugly
The Good
removes 99.9% of bacteria, … such as E. coli and salmonella
removes 99.9% of waterborne parasites, … including giardia and cryptosporidium
removes microplastics down to 1 micron
reduces turbidity down to 0.2 microns
rigorously tested
all claims verified using laboratory standard testing protocols set by the US EPA, NSF, ASTM for water purifiers
a long lifespan of 1000 litres with proper use and maintenance
removes viruses
reduces chlorine and bad taste
reduces lead and heavy metals
Make an Impact: For every LifeStraw product purchased, a school child in need receives safe drinking water for an entire school year.
The Bad, and The Ugly
Like all great inventions, none are perfect.
It does not filter chemical toxins and human waste products.
It claims to reduce chlorine and bad taste.
It also claims to reduce lead and heavy metals.
This is not its purpose and I would "run away" from these water sources as fast as my legs would carry me.
it will not remove salt from seawater
For me, this has been and still is an excellent product. There are almost 8000 reviews on Amazon on this product.
Like the majority, I have nothing bad to say about the LifeStraw.
When used and maintained properly it is a real winner!
Get one for your backpack and a second one to keep at home, in the unfortunate event that disaster would visit you.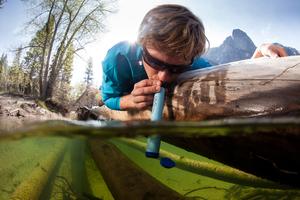 My Personal experience with the LifeStraw
This is one of the most useful and valuable tools in my backpack. I call it a tool because it performs a task. I've been using the one in my backpack for 3 seasons now and I'm still a ways from my 1000 litre limit. Unused, it can be stored indefinitely. Its lifespan is determined by the 1000 litre threshold.
it is an ultimate survival tool, with no shelf life, easy to clean and store, used and tested all over the globe.
If you have any comments or questions, about this fine product, I would be pleased to hear from you and always do my best to answer your concerns and comments in a timely manner.