What makes a great headlamp?
Simple! … tough and waterproof!
Let's see how the Petzl Reactik+ measures up.
The Petzl – Reactik + Headlamp
Product Description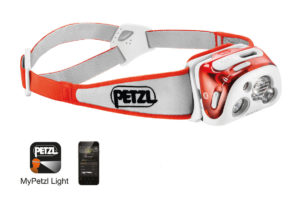 The Petzl Reactik+ is the latest version of the Petzl Headlamp. This is a very powerful headlamp offering 300 lumens of brightness and 17 hours of maximum battery life.
In 2016, it replaced the very popular Petzl Tikka.
The Petzl Tikka was the very first headlamp that I ever owned. I began my headlamp adventures by taping small flashlights to wide elastic bands that I would then position on my head to leave my hands free for other tasks.
This was back in the day when the majority of headlamps were found on miner's helmets.
My Petzl Tikka was my first go-to headlamp for many years, until one day when I tumbled down the side of a mountain and cracked the housing. Thank God for Duct Tape.
I carefully repaired my precious companion and still have it to this day. It has proven to be a true survivor and today it lives in the quiet comfort of my wood-workshop.
I always have 5 or 6 headlamps in my possession. Between my home, truck, and workshop, they remain one of my primary emergency light sources.
My Wilderness Survival Kit is the permanent home of my Petzl Reactik +, along with a second backup headlamp from Black Diamond, … the Storm.
The Petzl Reactik+ is an excellent headlamp for hiking, camping, and all other outdoor activities. If you plan on spending the night in the wilderness, this is the headlamp to bring with you.
This headlamp belongs in every wilderness survival kit!
Product Overview
Weight: 4.1 oz./ 115 grams
Maximum Brightness: 300 Lumens
Maximum Distance: 360 feet / 110 meters
Battery Type: Rechargeable Lithium-ion Battery or AAA battery pack that must be purchased separately
Product Rating
Product Website: Petzl Headlamps.com
Rating: 9.8 out of 10
Best Place to Buy: Amazon
Price: $106.96 + $32.73 Shipping and Import Fees
Amazon Prime: Get Amazon Prime and save all these shipping fees. Do not miss out on this super Amazon feature. Shipping can greatly increase your costs and Amazon Prime can be of great benefit to reduce your shipping costs.
The Good
this is a reliable, powerful headlamp offering 300 lumens of brightness
a sensor which analyses the ambient light and adjusts the beam pattern and brightness accordingly. This is called reactive lighting mode
the reactive lighting feature can be turned off so that the headlamp provides stable brightness despite the ambient light and surroundings
when the reactive lighting is turned off, the maximum battery life is 17 hours
you don't have to worry about regulating brightness in relation to battery consumption; the headlamp will adjust itself to achieve the optimal results

the headlamp

is equipped with a lock feature, preventing the headlamp from accidentally turning on, which is useful when you carry it in a backpack
can be used with a night vision device
it is equipped with a red lighting feature
the battery is rechargeable by a micro USB cable
also works with disposable batteries, (adapter is required)
a Bluetooth chip which allows you to adjust the headlamp's beam pattern, brightness and battery burn time from your smartphone (the Petzl app is available for iOS and Android devices)
the beam pattern and brightness can also be adjusted on the headlamp without the app
you can still choose between 3 different battery modes – Max Power, Standard and Max Autonomy
the battery modes are handy for predicting how long the battery will last
in Max Power mode the battery will last for approximately 2.5 hours, in Standard mode for approximately 5 hours and in Max Autonomy mode for approximately 10 hours.
the brightness sensor operates in all three modes
incredible performance
The Bad and The Ugly
expensive, but you get what you pay for! … so this is not really an issue.
you must purchase the "AAA" battery pack separately
Thoughts and Conclusions
I have been using headlamps in outdoor hardcore settings for years. In addition to the outdoors, I use headlamps in heavy construction during winter hours. Rough and tumble environments and use during heavy rains are your biggest enemies.
In all my years of work and play, I always hear the same stories about tools and toys. Better quality tools and toys always perform better than cheaper less expensive tools. You get what you pay for.
Just as important as product quality is how you maintain your tools and toys.
How well do you take care of your things? … your gear, your stuff!
Some people NEVER read instructions, abuse the product, and then complain that the product is a piece of garbage, and doesn't perform as stated.
It is never a bad idea to read the instructions!
For example, this headlamp is rated at IPX4, which is splash proof.
IPX4 is defined as Water splashing against the enclosure from any direction shall have no harmful effect, utilizing either: a) an oscillating fixture or b) A spray nozzle with no shield. Test a) is conducted for 10 minutes. Test b) is conducted (without shield) for 5 minutes minimum.
Waterproof implies that you cannot go scuba diving with it.
This is not a scuba diver's light.
Heavy rain, however, is not a problem!
This is not a cheap or inexpensive headlamp and I would highly recommend it to all serious, hardcore outdoor enthusiasts.
The Petzl Reactik+ headlamp features constant lighting technology.
Click this link for a Petzl Headlamp worthy of your Survival Kit
The brightness and beam distance don't decrease when the headlamp is running low on battery.
If you have any comments, questions, or suggestions about this headlamp or other headlamps that can be used in an outdoor setting, do not hesitate to Contact Me with your concerns.