Best Rechargeable Headlamps
Best Rechargeable Headlamps-for the outdoors starting at 900 lumens and 100 grams in weight. These rechargeable headlamps are the best bang for your buck.
Light up your World with Rechargeable Headlamps
The year 2019 is almost over and the New Decade will soon begin.
Rewilding will be the new wave breaking over 2020, and millions of people will be hitting the wide-open spaces for fun and adventure.
Today's adventurers get started early and stay late. This is why a rechargeable headlamp is absolutely essential for your backpack and vehicle.
One of My 10 Essentials
Headlamps are one of the 10 main essentials in my wilderness survival kit. Headlamps need batteries and batteries can become expensive over time, so why not invest in a headlamp that comes with a rechargeable battery supply.
Whenever I think of headlamps, I think of Petzl. The reason I'm so fond of this brand is because of my experience with Petzl headlamps.
My first headlamp was a Petzl Tikka that I purchased in the 1980s, and it lit my way up and down the mountain trails for many years.
Here are some examples of the best, affordable, and technically capable, Petzl headlamps on the market today.
1. The Petzl – Swift RL Headlamp
      900 lumens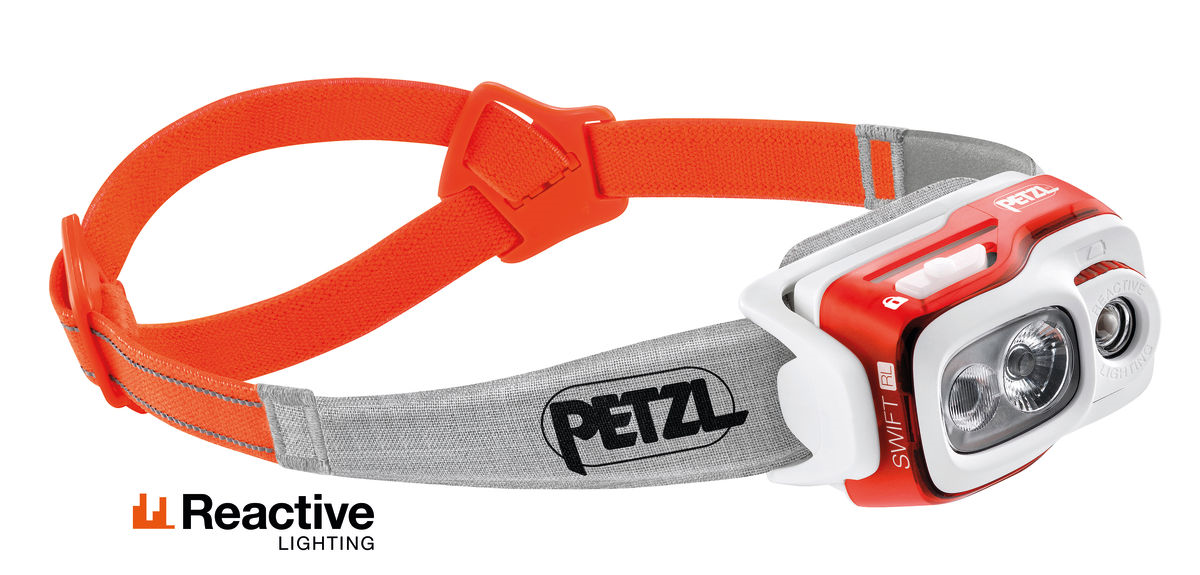 Petzl headlamps have been evolving for over 30 years with new technologies, that enable Petzl to design headlamps that are lightweight, powerful, and superbly designed for all hard-core outdoor activities.
The is one of the most powerful Petzl headlamps, it is compact and lightweight at only 100 grams. Commanding 900 lumens of brightness, with Reactive Lighting technology.
Reactive Lighting uses a sensor to analyze the ambient light, and automatically adjusts the brightness of the headlamp, to the user's needs. The reflective headband is a two-part construction that handles itself well in rigorous outdoor activities.
No slip-sliding all over the place ensures excellent stability in dynamic and intense outdoor work and play.
The Petzl Swift RL has only one button for easy control of the headlamp's functions.
This rechargeable headlamp has a 5-level gauge to keep an accurate reading of the battery charge level.
Less manual operation is required because of the reactive lighting technology. The light sensor automatically adjusts the brightness and beam pattern to the user's needs with reactive lighting technology.
This optimizes battery usage. This battery charges via a micro type "B" USB port.
Specifications
lumens: 900
weight: 100 grams
battery type: a 2350 mAh (milliampere-hour)  lithium-ion rechargeable battery, included
beam distance: on low – 12 meters, on medium – 55 meters, and on high – 110 meters
charge time: 6 hours
burn time: 100 hours on low, 5 hours on med, and 2 hours on high
water-resistant: IPX4 (water splashing from any direction will not harm this headlamp)
colours: comes in black, orange, and blue
guarantee on the lamp: 5 years
guarantee on the battery: rechargeable battery guaranteed for 2 years or 300 charging cycles
cost: check here for the price
Special Features
 simple and easy to use
1 button to control all its functions
 longer burn time of 6 hours
lock-out mode to prevent accidental use
10 to 15-lumen reserve mode, works for 2 hours, so you don't get left in the dark
 comfortable to wear
 an ergonomic adjustable headband, in a 2-part, patented construction for optimal stability
 2350 mAh lithium-ion rechargeable battery is included
 charges by way of a type "B" USB port
 has a luminous charging indicator for easy to read battery life
 a reflective headband for better night-time visibility
 ultra-bright at 900 lumens
 lightweight at only 100 grams
 visual comfort from 3 beam patterns
 high-performance lighting with proximity, movement, and distance vision
 flood, mixed and focused beams
This headlamp is a real winner, no ifs, and, or buts. One of the best on the market.
      300 lumens
Specifications
 lumens: 300 lumens
 weight: 3.84 ounces
battery type: 1800 mAh lithium-ion battery with an integrated USB port for convenient charging
water-resistant: IPX4
colours: black and red
cost: c

heck here for the price
Special Features
the headband is a 2-part construction for optimal stability
the headband is adjustable and washable
Bluetooth enabled
reactive lighting technology, this headlamp automatically adjusts its brightness to the needs of the user
the mixed beam produced by the primary light source and activated with the light sensor
rechargeable
longer burn time
energy efficient
3. Petzl – Actik Core Headlamp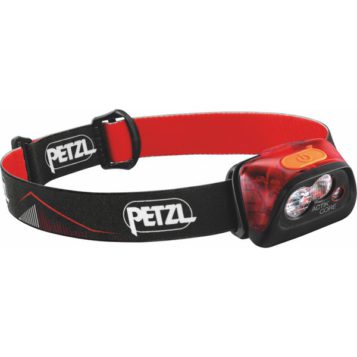 450 lumens
This Petzl – Actik Core Headlamp is only a rechargeable headlamp when using the CORE battery system. It also operates on 3 AAA batteries. This varies the burn time according to the quality and age of your batteries.
Specifications
lumens: 350 lumens, older model, new version 450 lumens
weight: 3.36 ounces, 82 grams
battery type: 3 AAA batteries or CORE battery
beam distance: low – 65 meters, high – 135 meters
burn time: 160 hours at 350 lumens
water-resistant: IPX4
colours: black and red
cost: check here for the price
Special Features
powerful and lightweight, it is built for rugged outdoor use
2 beam patterns, a wide pattern and a mixed pattern, for high-performance lighting
has a red-mode for preserving your night vision
this headlamp uses 3 AAA batteries and the CORE rechargeable battery
the CORE battery charges in a micro USB port
4. The Petzl – NAO + Headlamp
      a 750 lumens, and a 575 lumens model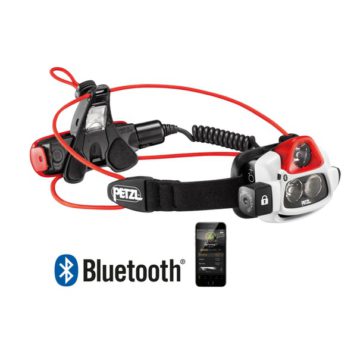 Another excellent rechargeable headlamp by Petzl.
This is a more technical headlamp. Intelligent, programable, and high performance. 750 lumens of luminosity. With its mobile app, " MyPetzl Light ", the owner can use their smartphone or tablet to check the remaining light in real-time and adjust the headlamp's performance.
This is accomplished by downloading the predefined profiles or creating your own user-specific profiles. When in use, the NAO + measures the surrounding brightness with its reactive lighting technology and adapts the luminosity to the user's needs.
This technology minimizes the need to manually adjust the lamp and optimizes energy consumption so that you can focus on your task or activity.
Specifications
lumens: 750 lumens or 575 lumens
weight: 6.7 ounces, 185 grams
battery type: lithium-ion battery, 3100 mAh, on the 750 and 2600 mAh on the 575
charge time: 5 hours on the 575 lumens model
burn time: 750 lumens, on high-1.5 hours, on low hours
water-resistant: yes, IPX4 splashing water
no red-light mode
colours: black
guarantee on the lamp: Amazon and Petzl guarantee their products
guarantee on the battery: see above
cost: check here for the price
Special Features
Petzl reactive lighting technology
lock-out mode prevents accidental activation
programmable or reactive lighting
rechargeable, no need to carry extra batteries, although I will when this opportunity is available, " Murphy's Law, is always in effect!
compatible with Alkaline and Lithium batteries

Petzl – ACCU NAO + Rechargeable Battery

adjustable head strap for comfort in use
reserve mode operates at 15 lumens for 2 hours, so don't end up in the dark
5. The Petzl – Swift RL PRO
A quick look at Petzl's new offering of 2020.
      900 lumens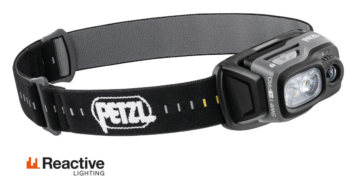 Designed for the workshop and small maintenance jobs, the Swift RL Pro is a rechargeable headlamp with 900 lumens of brightness.
Comes with a reactive technology sensor that analyzes the ambient light and automatically adjusts the headlamp brightness to the user's needs.
The Swift RL Pro operates with 1 button for easy control of all lamp functions.
The 5-level gauge allows for precise monitoring of the battery level.
This headlamp is compatible with Petzl helmets and mounting accessories.
A red light mode is also available for reduced eye strain and stealth mode.
This is one of Petzl's new headlamps for 2020.
Available February 2020.
Specifications
lumens: 900 lumens
weight:  123 grams
cost: only available in February of 2020
Special Features
longer burn time
battery charges via a type "B" micro USB port
The 5-level gauge allows for accurate battery monitoring
1-button control for all lamp functions
a red-light mode
great visual comfort
simple manual operation with reactive lighting mode
the reactive technology light sensor, automatically adjusts the brightness and beam pattern for optimal battery life
compatible with Petzl helmets and accessories
A Few Free Tips
always read the instructions FIRST …
never throw the instructions away …
never throw the box away too early …
always read the instructions first …
some living things don't need to read the instructions, … but most human beings do!
Things to Consider
An investment in a top-of-the-line headlamp should include a shell or protective case. This protective case is a small price to pay for protecting your investment.
There are headlamps on the market that are less expensive and have higher luminosity ratings. They work well for short periods of time but always seem to die out when you really need them.
Petzl's Reactive Lighting Technology sets a new bar in the headlamp world. If you have the opportunity, give these headlamps a try. You will be pleasantly surprised.
Look at it this way. A $5000.00 truck is never as good as a $50,000.00 truck, and we've all heard the expression, "you get what you pay for".
We don't always need an expensive headlamp to get a job done in the dark, if your work or your safety is important to you, and you play and work in the dark hours, these headlamps are well worth considering.
Running in the dark adds another dimension to headlamps, lighter and snug-fitting is always better.
I use headlamps at play, at work, around the house, and I always have one in my vehicle.
There are times when you can get away with "your" night vision, but if you're the type of person who's always pushing the envelope, and always playing on or near the edge when it's dark, YOU need a serious headlamp.
I always carry a spare one in my wilderness survival kit. You can find out why here.
I'd love to hear about your headlamps, what you use them for, and how they stand up to use and abuse.