What are Survival First Aid Kits?
Survival First Aid Kits are a set of materials and tools used for giving emergency treatment to a sick or injured, person or animal. They are containers for these tools and supplies, that need to be carried with you, on all your wilderness adventures.
Survival First Aid Kits are built and classified by the size of the group being served, and the distance to the nearest medical center.
Let's get Real!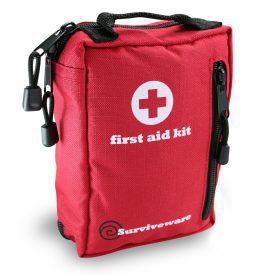 A few fishing seasons ago, I was river fishing for Chinook and Coho Salmon on a popular local river. The day was warm and sunny, and a pleasure to be on the river. Surrounded by mountains that had just received a dusting of snow, it was hard to imagine a better way to spend this early Autumn day.
Sometimes, when I river-fish, I line-up with the group along the river's edge, and trade fishing stories when the fishing is slow. Other times I choose to wander up or down the river to study this season's new river topography, and put my water-reading skills to the test.
This exercise produced one feisty Pink Salmon, that rewarded me a few exhilarating minutes of fun. I brought my fish in as quickly as I could, because my intention was to release it back into the river.
I could not be retain my fish, in this river, at that time, and this worked well for my fish and me. A nice 5 or 6 pound fish on a rod, on a river, is why I spend many days a year walking this river's sand and gravel. It's an experience that is easy to get addicted to, and with the right attitude, it makes for a pleasant day, well spent, on the river. I released my fish, and watched him disappear into the lively waters. I washed and wiped my hands clean, and said goodbye to that piece of real estate.
I then decided to focus my efforts upstream. This soon brought me to a familiar deep hole that was literally alive with these Pink Salmon fish. I could see 100's of fish in this hole, thanks to my polarized lenses,  but try as I might, there was no way they were going to accept my offering. A few other fishermen stopped by, and most left, after a short effort. No tight lines!
The fact that these fish were not biting, and not being able to keep them anyway, soon had me on the move again. I love walking the river gravel, and if there is no reason to sit or stand still, I am soon on my way. I like to cover lots of water and this I consider good steelhead training and scouting.
A few hundred meters of riverbed hiking and exploration brought me to an enthusiastic and very energized group of fishermen. As I made my way past this group, I saw a few beautiful Coho and the odd large Chinook, that had only recently been caught. Glancing through the group, I spotted my friend Don. Don is a calm, patient, and easy to talk to "kind-of-guy", who knows how to appreciate a good river. We have become close friends because of this, and we often share fishing tips and fishing stories. Today, however, Don was a little less relaxed than normal, and I asked him why he didn't seem to be his usual self?
He said, … "you just missed a very ugly accident". Someone had just broken their eyeglasses with a fishhook that had dislodged itself from a monster Spring Salmon. The tension on the line shot the hook straight into his eyeglasses and broke his eyeglass lens.
This, unfortunately, left pieces of glass in his eye, and this had happened only minutes before I arrived. His fishing buddies quickly took him away, to the nearest medical center.
Warning!
I have no statistics on this type of accident at this time, (unset hook coming towards your face/eyes), but, I am hearing of more and more stories of accidents happening on the river, and in the wilderness. These 10 to 20 pound fish are strong and powerful, and feeling the bite and setting the hook, is an art that separates the good, from the great.
This is not a fishing seminar but a warning about fish hooks coming towards your face and your eyes. Leaning the rod slightly away to the left or right will give you a better chance of missing your eyes and face, but this may not always be the case either. A good reason to wear safety glasses.
Would you have known what to do?
Could you have helped this fisherman? What if he was your fishing buddy, or perhaps even your son or daughter?
Falls, tumbles, or a fishhook in your hand, or in your ear, always get a few chuckles, but this event was much more serious. Nobody wants to see anyone lose an eye!
If you had been there, would you have known what to do?
Yes, I would have! … in reply to Don's asking.
I am not a Medical Doctor, and I am not certified nor qualified to dispense medical procedures on the web. For this reason, I will not describe the required procedure in this blog. Further to the above, I would not comment on an injury from 2nd-hand  information and knowledge, and I trust you appreciate my position on this matter.
Is this is a good reason for someone to learn First Aid?
Don was a bit surprised to hear that I had taken First Aid courses from St. John Ambulance.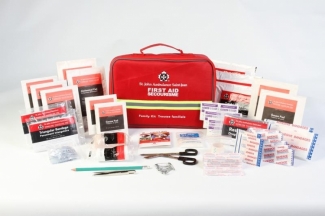 Do you carry a Survival First Aid Kit when you leave for an outdoor adventure?
The beginning of each new season is always a good time for me to re-access and re-organize my gear.  If you are like most outdoor types, you may be suffering from varying degrees of "gear-head syndrome".
At this time, the long, hot summer is over and a new season is taking its place. Fear not, there is hope for you and your illness.
The Autumn season brings River Fishing, Hunting, and Photography into play. This also includes lots of Hiking, Backpacking, and Camping. The temperatures are beginning to fall, and the days and nights are becoming a lot cooler.
While most outdoor activities are very gear specific, one item that should never be excluded is a Survival First Aid Kit.
What is included in Survival First Aid Kits?
This is a list of some of the things that are necessary and some that are nice to have. Remember that any list is only a guideline to get you started. Some of the better kits come better supplied, but you can always add or subtract items that are more specific to you and your group's needs.
sterile gauze pads of different sizes
adhesive tape
adhesive bandages (Band-Aids) in several sizes
elastic bandage
a splint
antiseptic wipes
soap
antibiotic ointment
antiseptic solution (like hydrogen peroxide)
hydrocortisone cream (1%)
acetaminophen and ibuprofen
extra prescription medicines (this is specific to you or your group)
tweezers
sharp scissors
safety pins
disposable instant cold packs
calamine lotion
alcohol wipes or ethyl alcohol
thermometer
tooth preservation kit
plastic non-latex gloves (at least 2 pairs)
a headlamp and extra batteries
a blanket
mouthpiece for giving CPR (you can get one from your local Red Cross)
these items are from a commercially available kit, and they vary slightly from kit to kit. experience and training will help you construct the kit that best suits your group and activity
Extra tips and suggestions to consider for your home and vehicle.
Keep a blanket stored with your kit.
After you've stocked your first-aid kits:
Read the first-aid manual so you'll understand how to use what's in your kit. If you have children, and they are old enough to understand, review the main points with them. Read the manual from time to time and check to see if it is up to date.
Store first-aid kits out of young children's reach but where adults can easily access them.
Check the kits regularly. Replace missing items or anything that has expired.
Make sure babysitters and other caregivers know where the kit is and how to use it.
Include a headlamp in your kit and make sure to check the batteries often. A flashlight is great as a backup, but a headlamp is the way to go. Performing First Aid in poor lighting with a flashlight in your mouth is not your best option. Again keep an eye on your batteries to make sure they work.
What should you do now?
 If you don't own

a First Aid Kit, … Get one as soon as you can!

If you have NOT taken a First Aid course, this is your second order of priority, but it could also be a first priority. Take a First Aid course in your area. There are many well-trained people in your region to assist you.
What Type and Size of First Aid Kit should you carry?
The size and type of First Aid Kit, is determined by the size of your group (number of people), and your distance to the nearest medical facility or hospital.
Do you need training in First Aid?   … YES!
This is an easy question to answer. The answer is … of course you do!
No one is born "hardwired" with First Aid training.
Imagine that the above incident had happened to one of your friends, a family member, or to your child or partner. How important is First Aid training when it hits home? First Aid training is like house insurance, car insurance, and fire insurance. Seems unnecessary until the SHTF! Right!
Don't neglect this training. Don't think of whether or not you'll need it. Think of the knowledge and skills you'll have to help others. Don't be selfish on this one!
Where can I get this training?
In Canada, where I live, St. John Ambulance offers excellent, professional training in First Aid throughout the year. There are always courses available.
St. John Ambulance has been providing for the health, safety, and quality of life of Canadians for over 125 years. St. John Ambulance provides training in many countries throughout the world.
St. John Ambulance offers comprehensive, first aid and CPR training programs for the workplace, the home, and the community.
These courses are available in:
workplace
pre-hospital and healthcare
CPR and AED
Emergency First Aid
specialized industry
family, children, and youth
instructor development
Pet First Aid
and many others.
How much will this training cost?
Costs vary with different programs and levels of training. Contact your local chapter and inquire.
Do not procrastinate on this one. It could mean saving a life.
Time spent learning First Aid training is never wasted.
In Conclusion
A small and well-supplied Survival First Aid Kit is preferred for short excursions and EDC on your person when Hiking, Fishing, Camping, or Hunting. Use my links to purchase a Survival First Aid Kit, that is rugged, and not too big, so that you don't leave it at home, or in your vehicle.
Its contents can be modified to your needs and preferences. Inexpensive scissors and tweezers can always be upgraded. You don't need 25 small bandages. Get superior quality Elastoplast-types. Same goes for pads and tape.
With time and training, you can build yourself a Survival First Aid kit that you will be proud to show your friends.
Be sure to include a small manual and don't forget to protect it against water damage. Check it often to maintain your supplies in good order.
If you have any comments, questions, or suggestions about Survival First Aid Kits and First Aid Training, please do not hesitate to leave them in your email. You can Contact Me and I will do my best to answer all your concerns in a timely manner.
What should you do NOW?
 If you don't own

a First Aid Kit, Get one as soon as you can!