The Shimano Calcutta 400B Review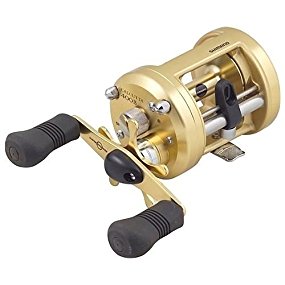 The Shimano Calcutta 400B Baitcaster Reel
The days are getting longer and much cooler now. Summer is nearing its end and Fall is just around the corner. Here in British Columbia, Canada, the Autumn Equinox 2019, in the Northern Hemisphere will be at 12:50 PST on Monday, September 23.
I can feel the chill in the early morning air as I make my way to the river.
New batteries in my headlight make the path to the river bank well lit and easy to follow.
I can legally begin to fish 1 hour before sunrise here in Southwestern British Columbia and the path to the river is still covered in total darkness.
I am fishing the Chilliwack/Vedder River this morning and I am walking with a purpose, to the river, to spend a third straight day with my new Shimano Calcutta 400B Baitcaster Reel.
Late Summer and early Fall is always an exciting time of year for me. The salmon are beginning their migration up the rivers and the thought of landing THE big one is occupying a lot of my time.
For too long now I have been struggling with my old Abu Garcia, Ambassadeur. Watching my friends reel in Pink Salmon, which cannot be kept because of regulations, and the odd Chinook was a very frustrating exercise. I was spending too much time adjusting my drag and even worst … untangling "birds nests".
Three of my river buddies fish with the Shimano Calcutta 400B. Nice guys that they are, they were more than happy to let me try a few casts from their fishing reels.
Got to try a few dozen casts from a few of the boys, and I must say that I was very impressed from the very beginning, … and why not?
New reels with specially treated stainless steel bearings, and a Variable Brake System (VBS) that uses centrifugal force rather than magnets to aid in controlling the cast. This makes for increased distance and easier adjustability.
It felt like fishing in Heaven and I knew that I had to get one.
It felt like casting on a cloud.
The Product Review
Name: The Shimano Calcutta 400B Baitcaster Reel
Website: Shimano/fishingreels.com
Best Place to Buy: Amazon. com
Price: 224.95
Manufacturer: Shimano
Rating: 4.9 out of 5
The Shimano Calcutta 400B
Every angler who has owned Shimano tackle can take a moment to thank a Japanese visionary named Shozaburo Shimano, who in 1921 declared, … "I aim to make Shimano's products the best in Kansai, then the best in Japan, and finally the best in the world." 
For over 80 years, Shimano has concentrated on precision engineering, one step at a time. Creating the most innovative products and processes you can hold in your hand today.
The Shimano Calcutta 400B reel is known as a Round Reel as opposed to a low profile reel. It offers outstanding Shimano quality, dependability, and value.
These excellent quality-engineered fishing reels come in right-hand and left-hand models and can be used for freshwater and saltwater fishing.
The Good
forged aluminum frame
anti-rust bearings
aluminum side plates and spool
 specially treated stainless steel ball bearings, 10 x's more corrosion resistant than standard stainless steel ball bearings
Variable Brake System (VBS) uses centrifugal force rather than magnets to aid in controlling the cast for increased distance and adjustability
Super Stopper is a one-way roller bearing that eliminates back play for solid hooksets
Dartainium Drag material provides a wide range of drag settings and the smoothest Shimano drag performance ever.
Quick Take Down by unscrewing the 3 thumb screws the side plate can be easily removed for maintenance or to adjust the VBS brake weights.
Septon handle grip material is soft to the touch and does not get slippery when wet.
Metal Series Metal frames keep moving parts in precise alignment for increased efficiency and durability.
 Assist Stopper is a back-up anti-reverse system that reduces the stress placed on the one-way roller bearing to increase durability
Clicker increases the tension on free spool and activates a clicking alarm when a fish bites
SV Power Paddles The largest of the paddle grips provides extra fish fighting power when battling feisty inshore species.
The Bad and The Ugly
Price: 

CDN$ 302.75 

+ CDN$ 23.53 shipping.

 

Sold by CHAOS Fishing
when purchased in Canada,  the reel ships from Chaos Fishing in the US of A and Border Crossing Duties apply. (September 20, 2017)
This will greatly INCREASE your price and PROBLEMS.
there should be easier ways to purchase this Reel in Canada from Amazon. Unavailability in Canada will force Amazon customers to go elsewhere.
check with Amazon. ca at time of purchase, as this may be subject to change.
excellent reel, but no need to mortgage the house or go nuts to go FISHING!

Great Product, ordered from amazon.ca. The vendor was in Florida. Shipped USPS but got stung at the border for duty. Such is life

By Amazon Customer on June 2, 2017. (This is is from a Canadian Review on Amazon.ca)
4 Things to Consider, from the manufacturer, when purchasing a Baitcasting Reel.
Super Stopper
Super Stopper anti-reverse uses a one-way stainless steel roller bearing that eliminates back-play. This provides the angler with instant hook setting power.
VBS
VBS uses centrifugal force rather than magnets to aid in controlling the cast. When turned on, the individual brake weights are forced outward at the beginning of the cast when backlashes most often occur, causing friction that reduces the speed of the spool. Once the spool speed begins to slow, the pressure with which the brake weights contact the raceway lessens, allowing the spool to continue spinning.
CF Aluminum Cold Forge Spool
These spools provide increased strength and durability over diecast aluminum or graphite spools.
Metal Series
The metal construction showcased in some of our finest reels now appears throughout our line of Metal Series products. Metal frames not only keep moving parts in precise alignment, they also feature the use of the latest anodizing, plating and painting techniques for beautiful and durable finishes.
Who Should Own a Shimano Calcutta 400B Reel
Everyone fishing freshwater and saltwater should try the Shimano family of fishing reels.
I am sure that many of your friends have them and if not, it may be possible to try them out at fishing shows and other such places.
The Shimano Calcutta 400B is a smooth casting, well engineered, fishing reel that is very popular on British Columbia rivers.
Many people that I speak to on my "river walks" and fishing adventures either own one, have friends that own a Shimano or have considered getting one for themselves.
It is a very respected Fishing Reel and a true workforce that performs season after season, year after year.
Always nice-to-have, and a must to protect the lifetime investment is a Shimano Round Baitcasting Neoprene Reel Cover.
Here is the Shimano in action on a nice sunny day in Thailand.
In Conclusion
If you have any comments, questions, or suggestions on this fishing reel or any other fishing reel, I would be pleased to hear them. Fishing reels are a varied and extensive line of products.
The Shimano Calcutta 400B is an excellent, smooth casting reel. A pleasure to cast and even more fun to retrieve with a fish on.
Tight Lines!