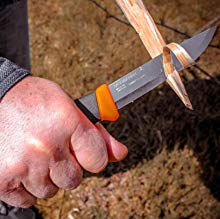 When the energy level dies down a bit, on the boat, or around the campfire, I sometimes kickstart the conversation by asking this question.
"What is the Best Wilderness Survival Knife"? … but before I ask this question, I make sure I have a Plan B.
The action heats up quickly, especially if a "Crocodile Dundee Knife" is in attendance. Out come the stories of what is the best knife and why … and what the qualities of the best knife really are.
I love asking this question, especially when the steaks are almost done, and I've managed to quench my thirst a bit.
I'll be the first to say, that these stories rank right up there with the best "fishing" stories.
Product Description
The Morakniv Companion Fixed Blade Outdoor Knife is a very popular knife for general outdoor use. It can be used for fire preparation, and in your camp kitchen.
It features a 4.1 inch, 3/4 tang, stainless steel blade made of hardened Sandvik 12C27 steel. It maintains an edge well and stays sharp longer than carbon steel.
The stainless steel blade is less prone to rust in outdoor and marine applications where knives are often exposed to dirt and moisture.
Their patterned, high-friction grip fits well in the hand and provides superior control for safety and performance in cold and wet conditions.
The Morakniv has a blade length of 4.1 inches (104 mm), a blade thickness of 0.1 inches (2.5 mm), and an overall length of 8.6 inches (218 mm). It comes with a colour-matching plastic sheath with an integral belt clip.
The Morakniv Companion knife and sheath weigh 4.1 ounces (116 grams).
It comes with a Manufacturer's limited lifetime warranty and is made in Sweden.
It makes an excellent companion for camping, hiking, hunting, and fishing, and can also be included in survival and emergency preparedness kits.
Product Details
Product Dimensions:  9.2 x 1.8 x 1.4 inches
Product Weight:  4.2 ounces
Best Place to Buy:  Amazon
Domestic Shipping:  This knife can be shipped within the USA
International Shipping:  This knife can be shipped to select countries outside of the USA. Learn more here.
Amazon Prime:  is your best shipping option, most items get FREE same day shipping
Average Customer Review:  4.7 out of 5 stars, … over 3000 customer reviews on Amazon
The Good, the Bad, and the Ugly
The Good
4.1 inch (104 mm) fixed-blade, 3/4 tang
blade thickness, 0.1 inches (2.5 mm)
overall length, 8.6 inches (218 mm)
weighs 4.1 ounces (116 grams) including the sheath
hardened Sandvik 12C27 stainless steel blade
high quality, razor sharp Swedish steel
tough
stainless steel blade stays sharp longer than carbon steel
less prone to rust
corrosion resistant
patterned, the high-friction grip fits well in the hand, for better control, safety, and performance, in cold, wet conditions
colour-matching plastic sheath with belt clip
manufacturer's a limited lifetime warranty
made in Sweden
can be used for food prep, and general camping duty
comes in 9 colours
The Bad, and the Ugly
non-serrated
3/4 tang
does not float
harder to sharpen than carbon steel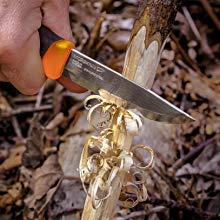 Personal Knife Experience
Over the years, I have bought, found, broken, and lost, many knives.
I own 20 dollar knives and knives that cost 100's of dollars.
Do not be misled by the price. At $15.00 CDN dollars, you get real value for your money, a good bang for your buck.
I have 4 Morakniv knives in my collection, two that I've purchased, one that my brother gave me, and one that I found in a pile of debris on a construction site.
It would have been too much to expect the sheath to be included, however, it feels good in my hand and I carry often.
It has become my go-to river fishing knife because of its stainless steel construction and the fact that it's a true survivor. An excellent cleaner of fish, we have become close friends.
I'm sure you have a few favourite knives in your collection.
What is your favourite knife and why is it so?
I would love to hear your replies and you can Contact Me here. I wait patiently!