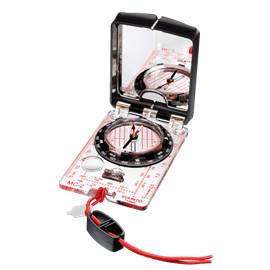 The Suunto MC-2  NH Mirror Compass
Product Overview
The Suunto MC-2 NH Mirror Compass is a professional grade compass that will be very useful and greatly appreciated by beginners and seasoned professionals alike.
It has adjustable declination so that you can set the declination for use in the area you will be using this compass. In North America, declination can vary by more than 20 degrees east or west, depending on your location.
This declination is at the bottom of your map and must be used to orient your map properly to set a bearing. (see video below) There is a  small screwdriver attached to the lanyard for this purpose.
The magnetic needle is balanced on a jewel bearing for quick, stable, and smooth operation.
This Suunto compass is a base-plate type, orienteering compass that really shows its worth when used in combination with a map.
Anyone spending time in the outdoors, … such as geologists, loggers, prospectors, surveyors, and weekend warriors, would be well advised to carry a compass.
This is an orienteering compass for use in the Northern Hemisphere.
The NH designation is for Northern Hemisphere.
Be sure to check this feature when purchasing this compass.
This is a definite must for your survival kit!
Product Rating
Product: Suunto MC-2 NH Mirror Compass
The (NH) signifies for use in the Northern Hemisphere. There is also an (SH)Southern Hemisphere, and a (G) Global version of this compass.
Price: $59.94 plus shipping. Prices will vary with the model you choose and your country of origin.
Best Place to Buy: Amazon.
These compasses are also available at other outdoor retail outlets.
Amazon Prime: Check out this very important Amazon feature to greatly reduce your shipping costs and in many cases get FREE,  2-day shipping!
Website: Suunto
My Rating: 9.9 out of 10
The Good
high-grade steel needle with jewel bearing
adjustable declination correction set screw
mirror with a center line, hole, and notch for sighting bearings
protractor with orienting lines for navigating with a map
long straight edge for making map work easier
liquid filled capsule for stable operation
clinometer for measuring slopes
magnifying lens for reading map symbols
red scales for easy reading on the map
slope ruler
3 non-skid footpads to prevent it from slip-sliding all over your map
luminescent markings on the cardinal points, (the primary directions, north, south, east, and west) for working in low light conditions
lightweight at 75 grams
The Bad and the Ugly
this should be common knowledge to all seasoned adventurers, however, I will point this out as a reminder to everyone, … be careful that you are not too close to any metallic objects or materials
Iron Ore " in-the-ground " will also affect the magnetic needle and give you a false reading.
the "how to use this product" instructions are very small and difficult to read, however, this is understandable given the total amount of written knowledge required to learn proper compass use. this is not a "bad", but just a heads-up
yes, you must learn how to use this compass
How To Use The Product
Basic compass use is explained quite well in the included instructions. These instructions are available in ten languages. English, French, German, Spanish, Italian, Portuguese, Finnish, Swedish, Dutch and Japanese.
Even though these instructions are of excellent quality, they are in very small font size and make reading them quite a challenge. Other than this, I have no complaints about this product.
Spend the time to look at this video. It is very good. It describes compass use very well. Look at it a few times to get it all. Nothing is worse than having a shiny new compass and not being able to use it properly.
Have a look at this excellent video on compass use!
Who is this Product For?
Anyone spending recreational time in the great outdoors, or any person earning a living there, such as a forester, a prospector, a park ranger, a land surveyor or anyone involved in similar activities, should carry a compass … and know how to use it!
I would like to mention that this version, the NH ( Northern Hemisphere ) compass, is for North of the Equator use … there is also an SH ( Southern Hemisphere ) for use South of the Equator.
The (G) version can be used anywhere on the planet. It is, however, a more complicated model and I would not recommend this model for beginners.
In addition to the NH and the SH versions of this compass, Suunto also makes a Global Compass. This Global Compass has dial graduations in mils ( mil-radians ) as opposed to degrees like the NH and SH Compasses have.
Final Thoughts
I have been using this Suunto Orienteering Compass for many years. This is a professional-grade, precision instrument that any serious outdoor enthusiast would be proud to own.
The great advantage of having a compass with you … and knowing how to use it … , is the fact that it will always be able to provide you with reliable navigational data, provided you do not place the magnetic needle near metal objects.
There are no batteries to die out on you, no need to wait for a satellite to pass overhead and no electronics to go "coo-coo", at the time when you really need to take a bearing!
GPS units are excellent tools and have their purpose. A compass is much less expensive and a definite must if you carry a GPS unit. If you carry a GPS, this is a must "back-up" tool to bring along.
This Orienteering Compass has never let me down and has all the excellent features mentioned above. It is constructed of very high -grade materials and with great craftsmanship.
The Suunto Company Warranty and the warranties provided by the many Retailers that sell this product ensure that this compass will serve you well for many years to come.
This is an updated version of my original review.
Comments, Questions, and Suggestions
If you have any comments, questions, or suggestions about this product, The Suunto Orienteering Compass, do not hesitate to Contact Me.
I would be pleased to hear from you. Perhaps the years I've spent in the outdoor wilderness can be of benefit to you.
I look forward to your comments, questions, and suggestions.