In Camping Gear for Kids, I want to focus on this age group, and the adjustments that parents have to bring to the game, so that both parties can enjoy this wonderful adventure.
For the purpose of this exercise, I define kids as being aged from a few years old, on to their first teen years.
Babies can also be campers, but they belong to their own special class as well.
When kids become teens, a great hormonal sea change occurs within them, that will cause them to leave childhood behind forever. This is why it is such an important time to connect with them, very early. That is the main purpose of camping with your children. If you do not make an early connection to their young minds and souls, you will miss an opportunity that may be very difficult to ever find again.
I want to emphasize that how they feel about these camping adventures will stay with them for the rest of their lives. Do not miss this time to connect with them. They will be forever grateful.
What to Bring when Camping with Kids
1. The Right Attitude
You are now a parent now, and your life will never be the same again. Since you are preparing to bring your kids on a camping trip, kudos to you. If you are heading out on your own as a family, or in the company of other families, your purpose is to enjoy this outdoor experience, so that you can impart this love of the great outdoors to your children.
Children are instinctively attracted to the outdoors. Show a child a puddle and they will immediately run towards it. They will jump and splash water as high as they can. More kids, more splashes. They will enjoy this simple moment of pleasure more than any object you can buy for them. Something like playing with the empty box, and leaving the contents to fend for themselves.
Kids love to play, and this should be the focus for your camping trip.
2. Patience
Patience, and lots of it!
Easy to remember, but not always easy to find.
Bring lots of it with you. Everyone can share it, and when used properly, a little goes a long way. Don't leave home without it.
3. The Right Gear
As a seasoned camper, you are aware of the joys and benefits of this excellent family exercise. Every year, millions of families hit the road, and trails, to pursue this fun adventure. This is family camping, so there is no need for bring tons of redundant equipment that will only create logistical nightmares.
At the lower end of this age group, their camping gear should be closer to toys than actual practical camping gear. As they grow older, you can introduce them to more practical camping gear.
4. The Right Location
Location, Location, Location.
We've all heard this expression many times, so why not introduce it to family camping. Many young families choose to camp as a unit, or within their circle of friends. Camping with friends can make it easier on the parents, and it gives the kids new and familiar friends to play with.
It is also important to consider where you will take them camping. Some places are better suited to family camping than others, and this usually depends on the parents personal preferences.
Here are a few places to consider.
camping in a provincial or state park
camping at a lake, for a fishing and boating fun and games
camping close to a seashore
camping  near a forest
camping near a river
backyard camping can also be used, when long trips are not practical
All of these camping environments can be "gear-specific".
Forest camping and seashore camping require the same basic pieces of equipment, but from there things change quickly.
Forests can include wildlife studies, berry-picking, plant identification, while "near-water camping" includes swimming, snorkeling, and float-tubes.
Each of these activities present specific challenges for parents.
Never underestimate the power of a young explorer to get into deep trouble, … fast!

Camping Gear for Kids Checklist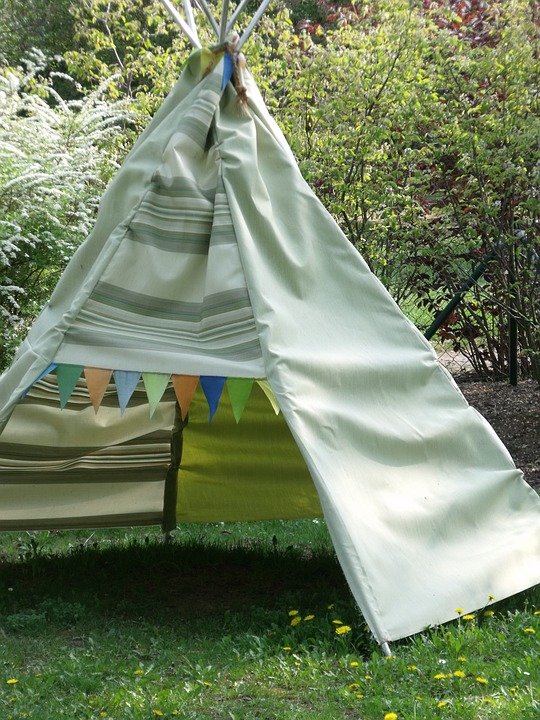 1. Tents
Talk about camping, and the first picture that pops into your head is a tent. At less than 5 years old, their tent will be mommy and daddy's tent, but now is also a good time for them to learn how to set-up their own tent. When they are less than 5 years of age, they mostly get in the way of you setting up the tent. This is mostly an exercise in patience for the parent.
To be more precise, you will be bringing the tent, and everything else. They're just along for the ride, … and your new purpose is to focus on THEIR ride.
Simple, and easy to set-up, tents-for-kids, are a must to bring along. It gets them set on the right path to camping in their future.
Learning new skills, and participating in a group, are the benefits of these activities.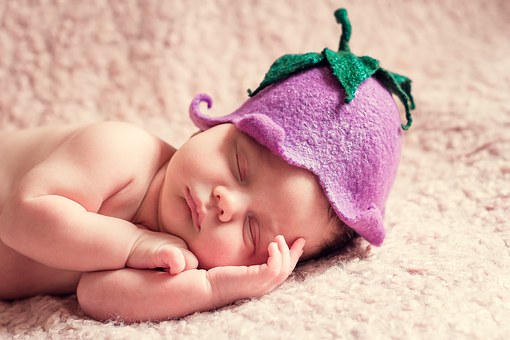 2. Sleeping Bag and Mattress
Young campers aged less than 5 years old can sleep with or near their parents. This depends in part whether this camping is done in a tent, or in a recreational vehicle. A sleeping bag appropriate for their age and size is another required piece of equipment.
How to set-up their mattress and sleeping bag is the skill to teach them here. Where to set-up a tent in a confined space, and sharing a smaller space than at home, are the lessons that they must learn.
The ultimate purpose of these camping trips, besides having a fun time in Nature, is to instill in them, the desire to practice camping later on in their lives.
Life is a learning process, and thoughtful parents can use all of these activities as learning tools, for their young children.
3. Campfire Cooking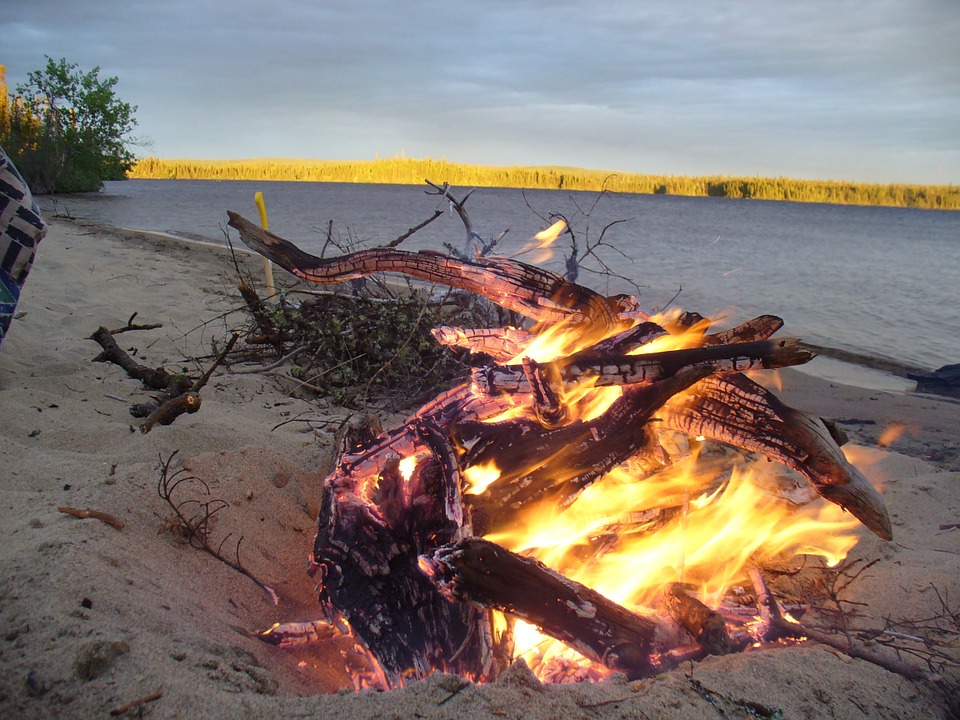 Camping is all about sitting near a blazing campfire. Nothing fascinates young eyes as much as a campfire at night. At this young age they must be under close supervision at all times. Things can go south very quickly. Never let these young adventures "off-lease".
Children less than 5 years old should never be left alone near any fire or heat source. When the campfire fire is on and even when the coals are still hot, never take your eyes off of these wandering trouble-seekers.
Their purpose is to explore, … afterall, this is a camping trip. They will seek the most dangerous, and the most hair-raising situations available. Never leave anyone from this age group, alone, or with, with a campfire.
Having said that, the campfire is also symbolic of camping. What would camping be without a campfire?
Exploit the campfire to its maximum. Roasting standard campfire "goodies" such as meats and sweets, should be done under parental supervision and control.
Cooking their own food over a campfire is an experience they will never forget. Long forks and hand-carved branches, can be used to roast marshmallows or sausages for campfire hot-dogs.
Be creative here and use foods that are part of your family diet. Young children love to eat, and at this age, and with all this outdoor activity, you will quickly find out that they can be little eating machines.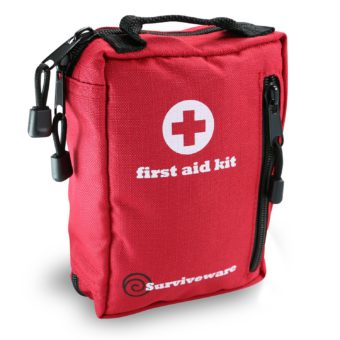 4. A First Aid Kit
There will be lots of scrapes and bruises as the camping season moves along. This is all part of growing up for young adventurers. A First Aid Kit is a must for every family unit. Your home version should be larger, but be sure to bring your week-end kit along.
Plan for minor injuries such as scrapes and bruises, and remember that if one young adventurer needs a band-aid, you may have to administer bandaids to all young attendants. They will be happy to show you an imaginary injury that requires immediate attention. They will wear your band-aid proudly, and show their injury to everyone, until it falls off in a mud puddle.

Don't forget to take a First Aid course, no point of having a kit if you're not confident in its use.
CPR is an invaluable skill to have at a campsite.
Be aware that your First Aid skills may be used to help other rowdy kids in distress!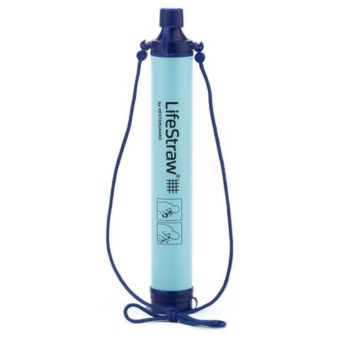 5. Food and Water
Having their own mess kit is an important concept for these young campers to learn.
Taking care of things and "being responsible for their stuff", is something that should be introduced early.
Having their own drinking cup and plate, a cutlery set, and a water bottle, teaches them how to keep track of their things.
Next on that list is how to keep their eating utensils clean, and properly stored.
A LifeStraw water filter is part of this category.
Never let them put anything in their mouths without your say-so. 
Kids will eat bugs, worms, rocks, and grass. They will put things in their mouths that will make a parent barf, or vomit, if you prefer.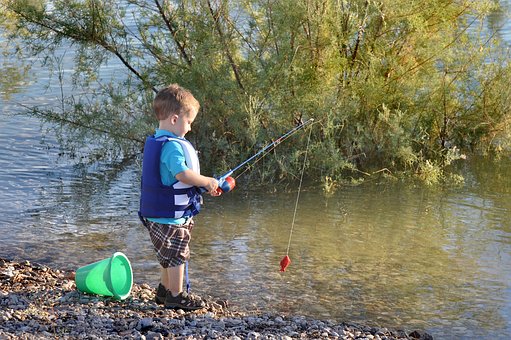 6. Toys and Games
Camping with kids is all about fun and exploration. There will be times when the kids just want to play. Kids love playing and games were invented for this purpose.
Playing near water is always fun, but it does introduce many dangers as well. Never leave young children of any age, unsupervised near water.

Camping trips are a good way to introduce young children to the joys of fishing.
Children love to fish, and they soon become excellent at it. Be careful that the very young ones do not eat all your bait. Be careful with sharp hooks, they are attracted to small hands. Try to keep that First Aid Kit closed, and unused.
7. Tools and Equipment
Tools and equipment include everything that adults bring along when camping.
Backpacks and how to pack them, sleeping bags and mattresses, and headlamps, for night-time activities, are some of the equipment that can be introduced along with its purpose, and how they can be used, in the outdoors.
How to set-up a tent, and where to best set it up, walking at night with a headlamp, setting up their own sleeping bag and mattresses, are all examples of standard camping activities that can all be used as fun exercises to introduce their young minds into this great sport.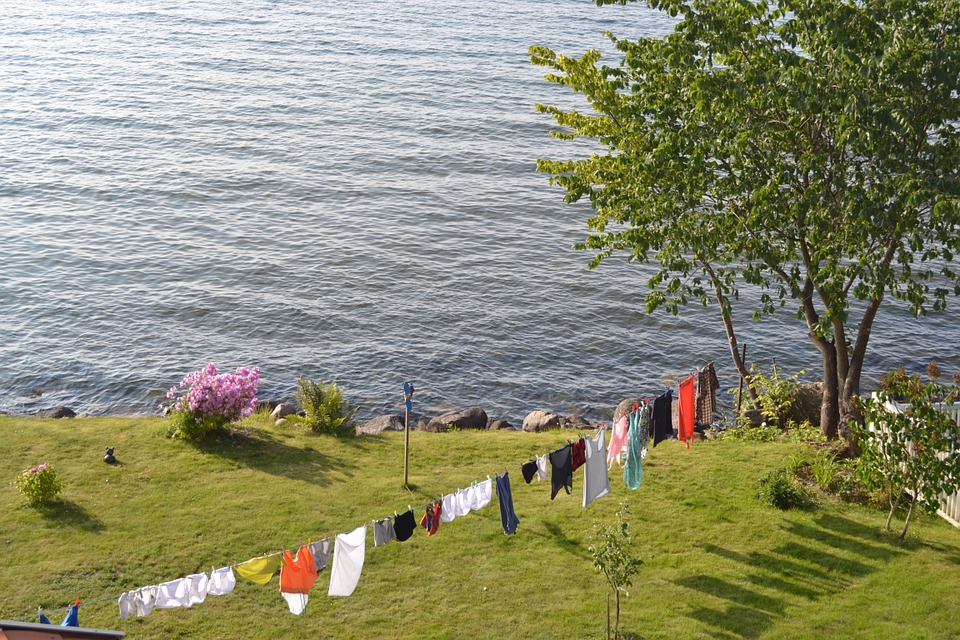 8. Clothing
Bring lots of it. A few sets to change into when the originals get "trial-tested".
Depending on the time of year and your chosen location, extra clothing will make things so much easier.
A clothesline and clothes pins will be worth it weight in gold.
Bath towels and paper towels, paper tissue, and toilet tissue, can be included here as well.
9. Camping Accessories
Folding chairs, hammocks, soccer balls, volleyball net and ball, masks, snorkel and swim fins, and canoes and kayaks.
This is only a short list of the many activities that can be enjoyed while camping. This list will vary from family to family, and will grow and change over time. It will also depend on the size of your group and your chosen location.
Being well organized, and knowing where you will be camping with these young adventurers, can ease your logistics burden a lot.
At home keep everything in well labelled storage boxes. In this way, you won't be bring swimming fins to the forest, or a butterfly net to the beach.
Today, there are many shapes and sizes of sturdy plastic storage boxes, which are a real plus for getting organized, and staying organised. They can be used for home storage, or brought along with you on your trips. This of course depends on the size of your vehicle and the size of your storage box.
10. Camp Safety
I have previously mentioned the First Aid Kit.
Another item that should be part of your gear pile is a fire extinguisher. There are many models available to suit your group size and needs.
There is also a throwable version, … a fire extinguishing ball, which can be used in camping situations.
Simple throw it into the fire. At less than 3 pounds in weight, and maintenance free for 5 years, they are thrown into the fire without having to get close to the fire itself. They are safe to use on Class A, B, and C, fires. They are made of environmentally friendly materials.
Closing Thoughts
Camping families are happy families, and the statistics prove this beyond all doubts.
Every year millions of families head out every week-end to get away from their jobs and their homes, in a concerted effort to explore the world and have fun, relaxing adventures.
The more you plan your activity, and the better organised you are, the more time will be left over for fun and games.
Be aware that as a parent, your focus has suddenly shifted to your children. You must slow down your pace to theirs, and concentrate on things they like. This shift is necessary to instill this love of yours into their young minds.
Focusing on their fun, and bring lots of patience along, will help your camping adventures.
I would love to hear about your family camping adventures. You can Contact Me at this link, with all of your tall tales.