The MSR MiniWorks EX Microfilter Water Filter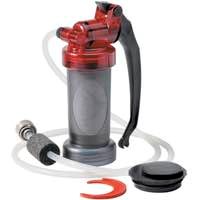 How I decided to Purchase this water filter
In my early years of trampling the Boreal forest and the high alpine, whenever I was thirsty I would quickly dip my cupped hands into a creek, a river or a lake. This method worked quite well and it always managed to quench my thirst.
One sunny, summer afternoon while walking the banks of the Racing River in northern British Columbia, I was rudely awakened from these wild and crazy drinking habits. I had been fishing for Arctic Grayling and the fishing had been good. Less than a dozen casts had produced two beautiful Arctic Grayling fish.
I was happy. They were great fighters. The thrill of a fish on a fishing rod is hard to explain but easy to remember. I quickly cleaned my fish and headed up river towards my truck. They would make a delicious meal at the campfire, that evening.
I had been subsisting on dehydrated foods for almost a week and the thought of a real meal of fresh trout baked over an open fire, under the stars, was very appealing.
I was hot and thirsty so just as I had done hundreds of times before, I cupped my hands and dipped them into the raging waters of the river. I was exhausted from a long backpacking trip into the alpine, and I was working my way back to my truck as I fished my way back home.
These northern rivers are fast-flowing and icy cold, and drinking this water is a very sobering experience. A few quick scoops of this teeth-freezing water quenched my thirst, and I continued on my way up the river.
As I rounded a bend I could see and hear a family of Ravens cackling away, over the decomposing carcass of an enormous northern moose. It was as if I had been struck by lightning!
I had been drinking this river water!
Crazy thoughts flashed through my head as I stopped to gaze at this decaying pile of moose bones, slowly leeching into the river.
At that moment, on the Racing River, many years ago, I was convinced that getting a water filter might not be such a bad idea after all.
That evening sitting by the campfire and enjoying my Arctic Grayling I decided, then and there, that I would get a water filter before my next trek into the alpine.
Over the years I have made my way back to the alpine many times, and I have grown to appreciate this small, lightweight piece of essential equipment. It has served me well, through all the miles of up and down in the beautiful outdoors of British Columbia.
Overall Rank: 97 out of 100
Best Place To Buy: Amazon
Product Description
The MSR® Miniworks™ EX water filter is a lightweight water filter with an easy pumping action. The carbon-cored ceramic element is the MSR WaterWorks™ EX filter but without the final membrane filter.
The side-mounted lever is easier to use than bicycle-style-pump-type filters.
The base of the filter is threaded to screw directly onto Nalgene® wide-mouth water bottles or all MSR Dromedary™ bags, and similar hydration bags. This reduces spillage and the risk of cross-contamination with unfiltered water.
The over-pressure relief valve vents water back down the intake hose, so you don't get soaked with untreated water.
The Good, The Bad and The Ugly
The Good
weighs only 456 grams, a little over 1 pound
the included ceramic filter will filter 2000 liters of water
Foam pre-filter included.
filters at 1 liter per minute flow rate using AirSpring™ air bubble technology.
it uses a ceramic filter which has a carbon core.
it is effective against bacteria, particulate, and protozoa
it will filter to 0.2 microns or larger bacteria
reduces concentrations of some chemicals (including iodine and chlorine).
reduces odors and tastes
A gauge is supplied so you can determine when it's time to replace the ceramic filter element.
foam pre-filter included.
The Bad and The Ugly
it will not filter viruses.
Who is this product for?
This recent study shows the ever-increasing need for the vigilance of our water supply.
Virtually all surface waters are contaminated with at least one of the three types of potentially disease-causing microorganisms: protozoa, bacteria, and viruses.
A 1992 study found that 97% of U.S. rivers and lakes contain one or both of the protozoan parasites Giardia and cryptosporidia.
While it is true that you can drink directly from any water source, it is critical to understand that each time you do, there is a chance of ingesting one of these bugs.
Infection symptoms can range from an upset stomach to debilitating illness and, depending on where you are, can mean anything from a simple inconvenience to a life-threatening situation.
Since these microorganisms are impossible to see with the naked eye, taking proper precautions with any water source, is always a wise idea.
Tools for maintenance
An MSR Water Filter Maintenance Kit is available at Amazon, and
the Ceramic Element can also be purchased there as well.
The Maintainance Kit and an extra Ceramic Element are not immediately necessary at the time of purchase, although I would recommend purchasing the Maintenance Kit as soon as possible.
Final Thoughts
This was my first water filter purchase and I have been using this Microfilter for many years. It is quite rugged and I have filtered water from tiny, slate based mud holes for days in the high-altitude at the base of some patch of snow.
I clean the filter every 1 to 2 liters with a green, plastic scrub pad to maintain a good flow rate.  Do not rub the filter too roughly when cleaning. You only want to open up the filter pores. Extra filters and a maintenance kit are a must to ensure the proper functioning of this water filter.
I would be lying to you if I said that I count the number of liters of water that I filter. The ceramic filter is rated for 2,000 liters. It is also advisable to change the o-rings when required. I change the "O" rings every Spring, and the red "u" shaped gauge tells you when to change the filter.
The product and cartridge design have not changed over the years and this to me signifies a great basic model.
The pump works very well. It is rugged, lightweight and reliable. With proper care and maintenance, this MSR® Miniworks™ EX water filter should last you for many years.
As with all outdoor and backcountry equipment, reading the accompanying literature and instructions, combined with regular maintenance will ensure that your hard-earned money is not washed down the river.
Comments, Questions, and Suggestions
If you have any comments, questions, or suggestions about this MSR® Miniworks™ EX water filter or other means of water filtration, do not hesitate to Contact Me with your concerns.
I try to answer them all in a timely manner.