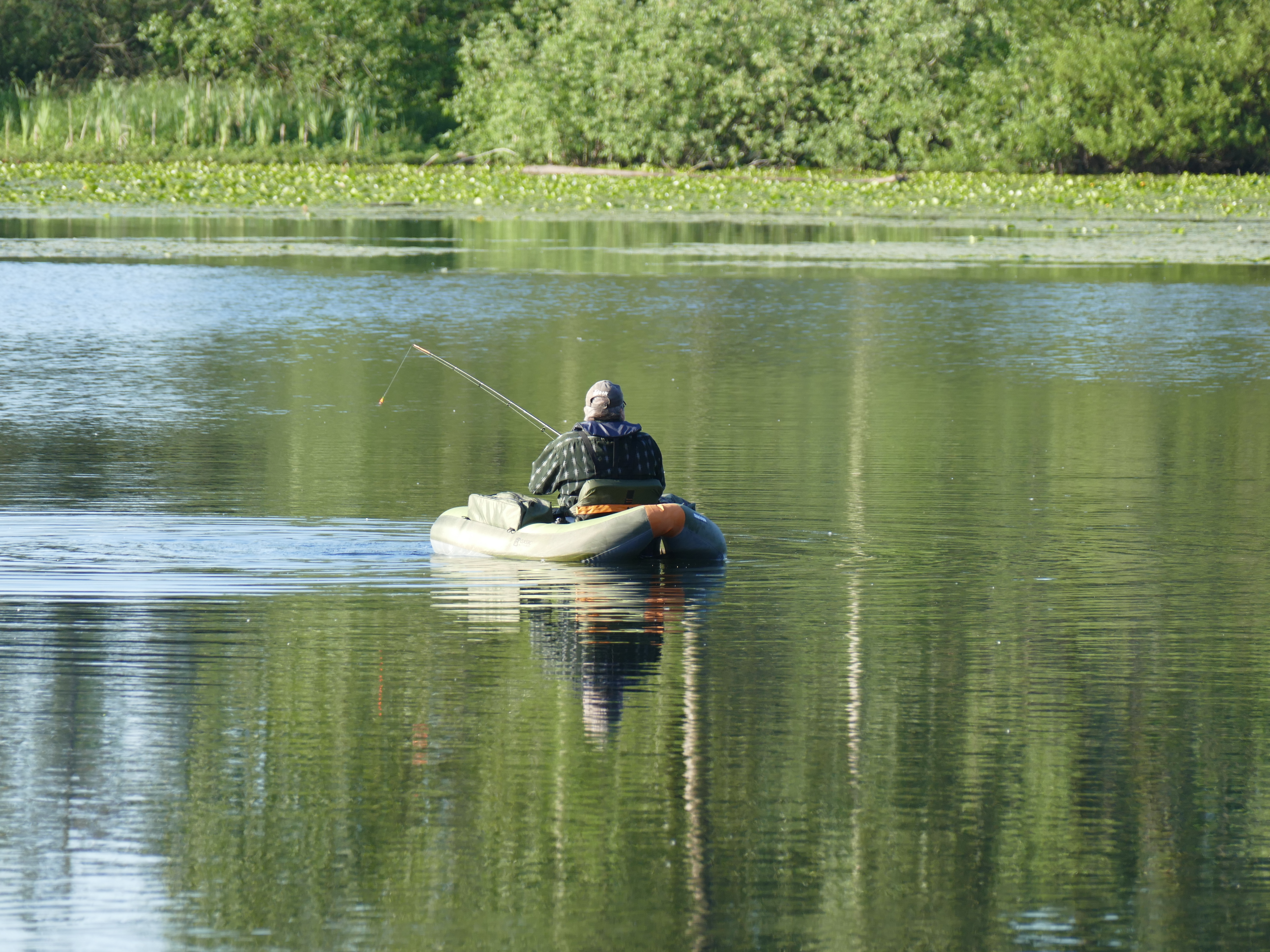 Mondays and Tuesdays are designated fishing days for Mel and Ben. In my effort to belong, and keep my club membership active, I'm following suit and powerwalk my way to the lake every Monday and Tuesday, in the very early morning.
All true fisherman know that a bad day of fishing always beats a good day at work, … but a good day of fishing is a joy to behold, and an event to be celebrated.
Catch and Release
Funny how your fishing skills, experience, and confidence take a huge jump after a good morning of catching fish. Today was one of those days. Ben landed and released 7 Rainbow Trout, and I landed and released, 2 rainbows and 2 small catfish.
My status in the fishing club was suddenly sky-rocketed, however, Mel, the club senior member, was out on the lake, on his float-tube and subsequently unable to officially record my catches. This has rendered them null and void, and I will be required to repeat this exercise to validate my claim for status.
More important than my many catches at the lake has been the growing friendship that I'm quickly building with these two fishermen.
Easy to understand, and a joy to accompany, Mel and Ben have added a whole new dimension to my early morning powerwalks to the lake.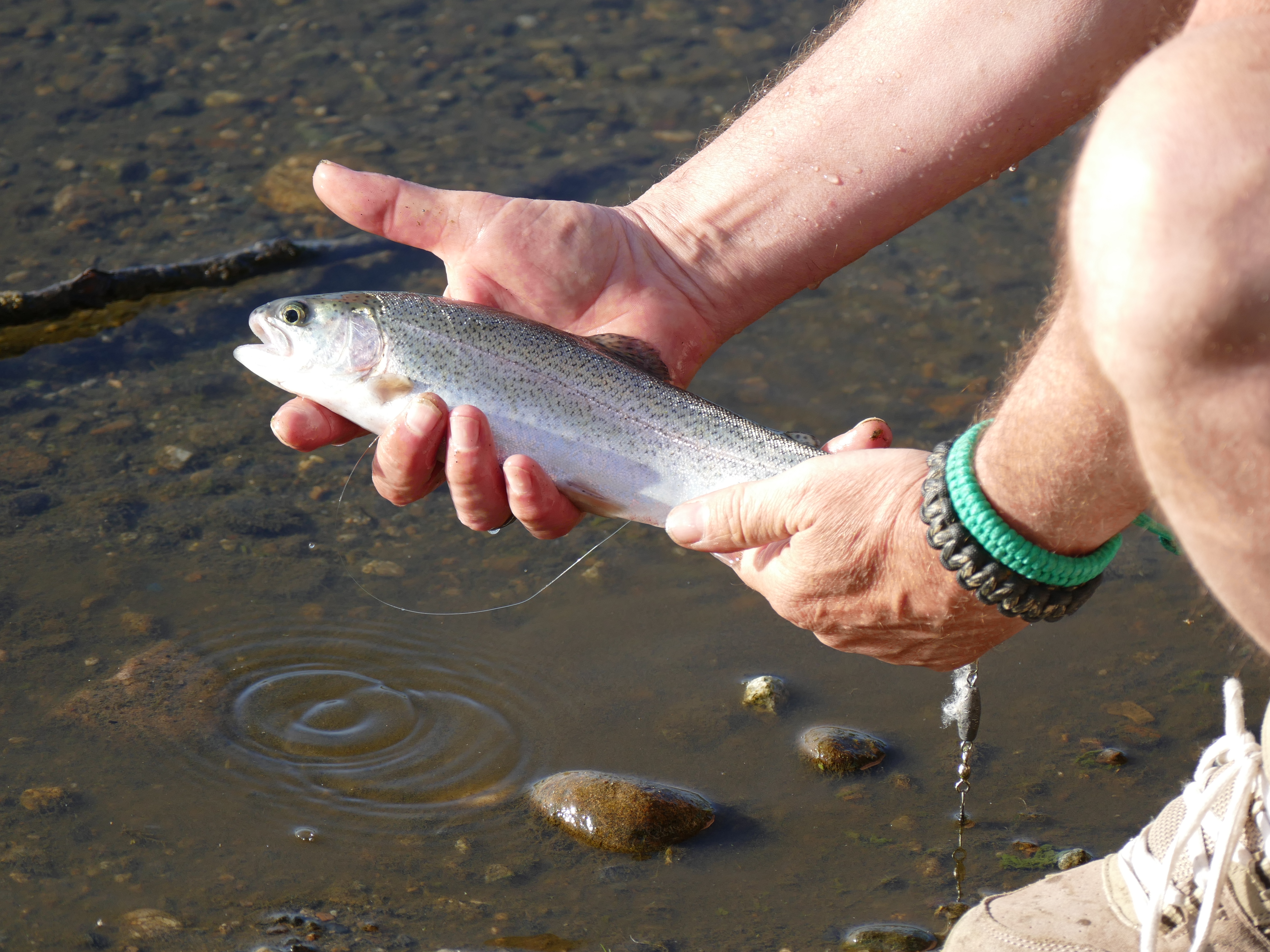 Masters of the Lakeshore
Now that I've mastered fishing the lakeshore, lol …, I'm eager to accept the new challenge of fishing the deeper water of the lake.
In between catches, on the lakeshore, I see Mel reeling in a feisty Rainbow or two, and I long for the open water and the deep part of the lake. If only I had a float-tube. Mel says that they are not that expensive and well worth owning.
My thoughts drift to the quiet effort of propelling my very own float tube.
Mel returns to terra firma!
As Mel reaches the shore, Ben is quick to mention my 4 catches. Mel nonchalantly shrugs it all off as just another fishing story. Ben and I chuckle, knowing full well that he was able to see all our catches, and we were able to see all of his.
He will, however, show some leniency, and offers to let me use his float-tube to fish the deep lake water. I am taken back and humbled by Mel's generosity and I quickly accept his offer.
The next few hours that I spend on the lake, in his float-tube, and other tubes previously, qualify me to express these few lines on the benefits of this  "fisherman's friend".
Product Description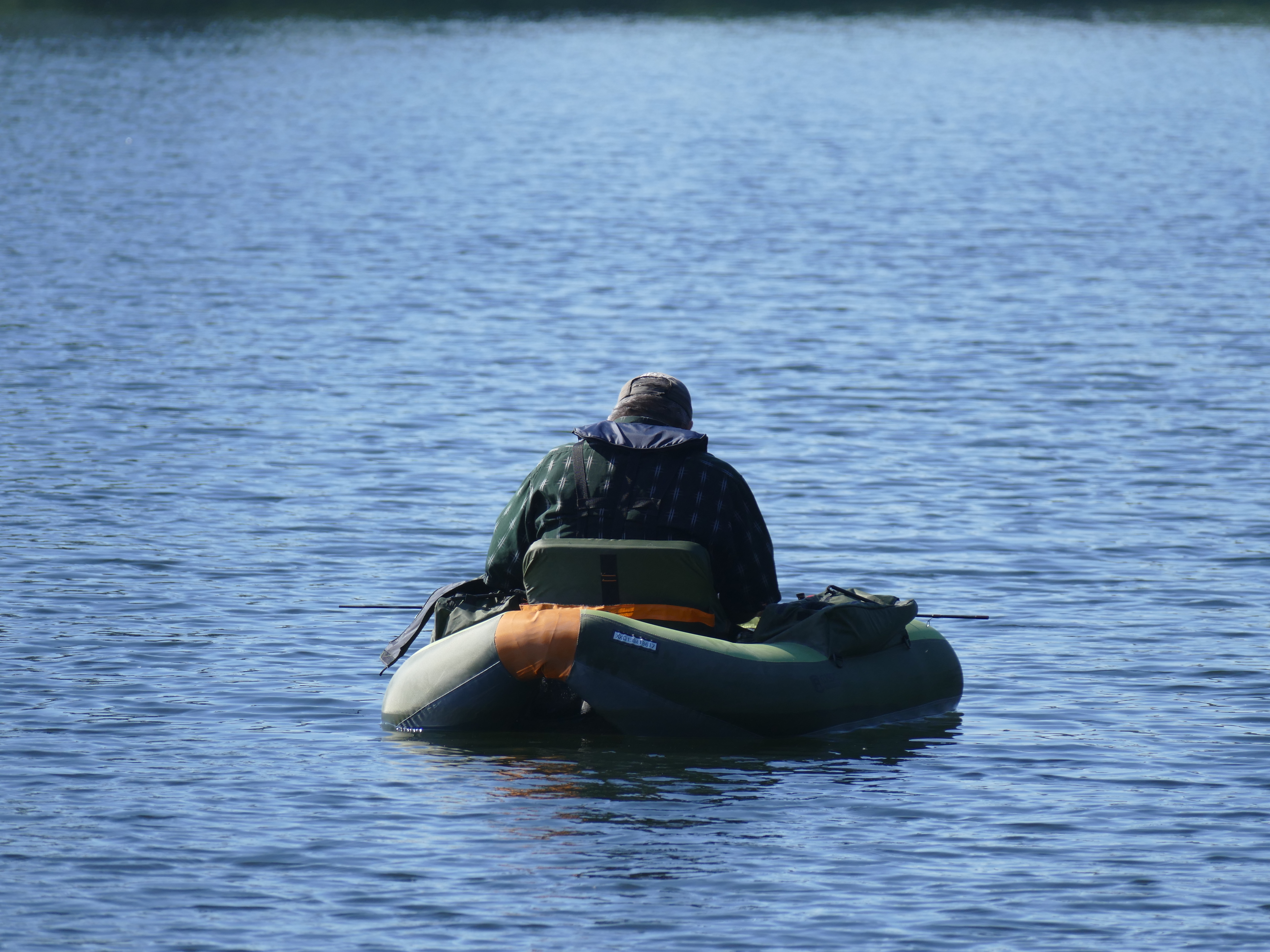 The Cumberland Float Tube comes in Apple Green and Olive. Its elevated seat provides a drier and more comfortable fishing experience and a more improved visibility.
The abrasion-resistant PVC bottom and a hydrodynamic hull shape make for easy maneuvering on the water. A very comfortable, thickly padded seat, complete with an adjustable backrest provides excellent support and comfort for those long hours on the water.
Two huge cargo pockets, two rod-holders, a mesh stuff pocket, a mesh storage platform, and 2 drink holders provide lots of storage for all the fishing equipment and other necessities that you want to bring along.
It even includes a mesh stripping apron with a ruler to keep your fish stories within reasonable limits.
The Good
The Cumberland float-tube has a 350-pound maximum carrying capacity
comes with adjustable shoulder straps for easy carrying, backpack style
a hydrodynamic hull, shaped for superior tracking and steering
a padded seat with an adjustable backrest
2 fishing rod holders

2 cargo pockets

mesh stripping apron with integrated fish ruler

a back mesh storage platform

and it measures 47″W x 17.5″H x 56″D

total weight, 17.1 pounds
a 1-year limited warranty
The Bad, and the Ugly
a float-tube is not a boat and should not be considered as one
you are the motor
Final Thoughts
When all is said and done, float-tube fishing adds fun and mobility to your lake fishing experience. I have spent many hours on the water float-tubing for small rainbows. I have enjoyed these hours and look forward to many more.
Three of my fishing buddies have float-tubes and we do use them quite a bit. They are easy to care for, easy to maintain, easy to maneuver, and a whole lot of fun.
Isn't that a very good reason to go fishing.
Check around and ask your fishing buddies on the river. You may be surprised at how many people own them and love to fish on those hot summer days.
Comments, Questions, and Suggestions
I welcome all your comments, questions, and suggestions about fishing with a float-tube. I would love to hear about your experiences in a float-tube, and also about your friends that have float tubes, and fish in this manner.
Contact Me, and share your fishing stories.