A Question for the Ages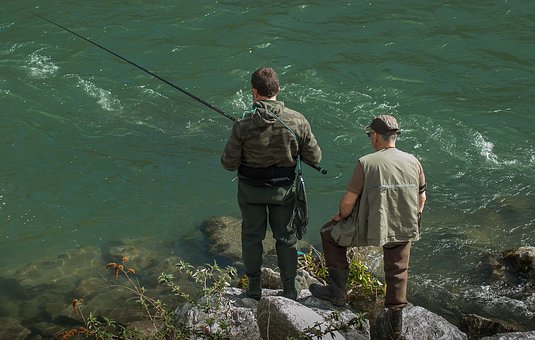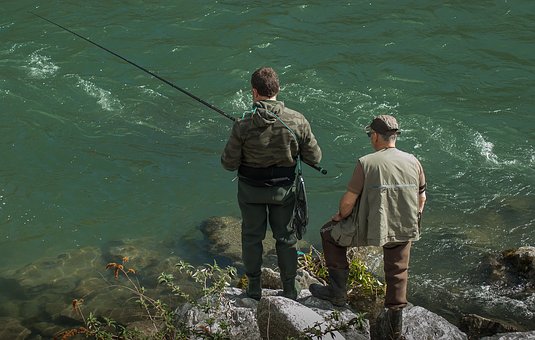 Ask anyone who doesn't do very much fishing, to describe a fishing rod, and you may be surprised by the speed of their answer. Many will look at you with disbelief, and as if you had just crawled out from under a rock? But expand your questioning and you'll soon find out what I mean.
A fishing rod can be described as any long, flexible, pole used by a fisherman to catch fish.
For the purpose of this exercise, I will describe my Okuma SST-S-902M  steelhead spin fishing rod.
4 inches above the handle, I can read the following data.
SST-S-902M
9'0″ Length M Action
8-17 lbs  3/8 – 1 oz
What does this all mean? … these are the specifications for this fishing rod.
Okuma SST steelhead spin, is the name of this fishing rod. It is described as a steelhead spinning rod. It is a spinning rod, but it can also be used for other species of fish.
9'0′ Length M Action, means that this fishing rod is 9 feet, 0 inches long and a medium action rod. The M for Medium.
8 -17 lbs, means that the recommended tensile line strength for this fishing rod is between 8 lb test and 17 lb test.
3/8 – 1 oz, means that the recommended tackle or lure weight for this fishing rod is between 3/8 of an ounce, and 1 ounce.
That's in a nutshell, but now that you're equipped with this modicum of knowledge, you're going to have to learn more, because, fisherman and fisherwomen, can get pretty annoying at times, when the fish don't want to cooperate with our plans.
How are Fishing Rods Classified?
Fishing Rods, such as the Okuma Family of Fishing Rods, use:
model number
application
foregrip length
handle style
line weight
lure weight
number of guides
rear grip length
rod length
rod power
rod taper
product sections
weight in ounces
oversized to describe a fishing rod.
These designations vary slightly between different manufacturers, but these ones mentioned above, will get you a long way towards making an intelligent choice when purchasing a fishing rod to target your preferred species. Some of these are described in more detail below.
Power
The power value, is also called the rod weight. In my case the rod weight is Medium and is designated with an M. Rod Weight is the more common term used in my neck-of-the-woods. Every fishing rod worth its salt will have this descriptive information.
Rods are classified as ultra-light UL, light L, medium-light ML, medium M, medium-heavy MH, heavy H, ultra-heavy UH, or other such combinations, that may be specific to certain countries and/or companies, but these classifications are quite popular in North America.
Action
The Action refers to the speed with which your fishing rod returns to its neutral position. The action of a fishing rod can be slow, medium, or fast, or anything in between these, such as medium fast. Contrary to popular opinion, action does NOT refer to the bending curve.
Line Weight
Fishing line weight is described in pounds of tensile force required to break the line. Line weight for a fishing rod is the range that the rod is designed to support.
Lure Weight
Lure Weight is the weight of lure or hook that the rod is designed to support. It is expressed in ounces or grams.
Number of Pieces
A 1-piece rod, from butt to tip, will have the most natural feel, but 1-piece rods are not very practical for travelling. Since most fishing takes place in different locations, and given that fishermen tend to move a lot, to seek their quarry, rods are broken down into pieces, to facilitate their transport.
2-piece rods are the most common, however, there are rods that measure in the 20 to 30 range, and these are usually telescopic in design.
technique and species specific rod actions
sensitive IM-8 graphite rod blank construction
E- glass rod blank construction on halibut rods
durable stainless steel guide frames
zirconium guide inserts reduce friction from braided lines
halibut rods use heavy duty boat guide frames
custom 1-K woven carbon fiber pipe reel seat on salmon rods
custom IM-8 graphite pipe reel seat on most spinning rods
premium fore and rear grips on all models
halibut rods feature a triangular shaped fore grip with shrink tubing
integrated compressed cork butt cap, non-skid surface
stainless steel hook keeper
all SST rods are backed by a 1-year limited warranty
As you can tell, the fishing community takes their fishing rods very seriously!
Fish On!
Fish On! … or the sound of your fish spooling line off your reel is a pleasure to the ear. We almost never agree on the best fishing rod or the best fishing reel, but we all agree that fishing is an experience to enjoy, whether you do it on a lake, a river, or on the ocean.
I enjoy fishing stories as much as the next guy, so I would love to hear about your latest catch, and how you struggled to land that hostile creature.
You can Contact Me at this link with your details.
If you have any comments, questions, or suggestions, do not hesitate to drop me a line!