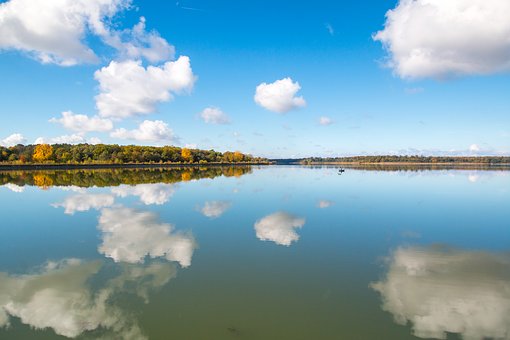 Why is the river closed to fishing?
A reasonable question to ask, but also an easy one to answer. Why is the river closed to fishing?
The Spring run-off, caused by the melting snows on the mountains is one reason and fishing regulations are another.
Fishermen spend long periods of time between catches, and this naturally lends itself to long periods of thinking. This is one of the many benefits of fishing and this focused thinking is very useful for adding structure to our fishing stories.
Powerwalking to the Lake
It's early May, and my favorite river is closed to fishing for steelhead. Time to take a break from fishing and organize my gear. What's left to do, when all this expensive and functional equipment has all been cleaned and neatly organized to perfection?
Well, why not take a hike, … to the lake!
Easy to pair with lakeshore fishing, good for the legs, and a great way to stay out of doors. Today, I'll hike to the lake. This one-hour powerwalk will do wonders for my impetuous thoughts and energetic disposition. It will help "cool my jets" so I can get back to normal, later on in the day, when I have to deal with daily life.
As I open the door to leave the house and head for the lake, the sun has not yet broken over the mountains. The birds are excited about this new day, the sky is in beautiful blue, and that's more than enough to get me started. The sun is bringing his warmth to the day and there is much animation in the air.
I've been power-walking religiously for a long time and I feel great. I call it power-walking now, … sounds more robust, healthy, and invigorating.
Running is too much like work and walking is too slow to keep me excited.
In half an hour I will be at the lake. The songbirds make the road there more pleasant.
Fishing Stories
I'm looking forward to meeting Mel and Ben there.
Mel and Ben are lake-fishing these days. Their favorite river is closed because of fishing regulations and the spring runoff. I always stop to chat for a few minutes, but this can quickly turn into a half hour.
There is no end to the fishing stories that three fishermen, like us, have accumulated over the years. Grown men that have better hooks, better bait, and a time-tested, proven method to catch that "silver bullet". If you've got a minute, they may even give you a few clues on how you can give this a try, and improve your catching percentages.
On my last stop to chat, Mel said to me, "Why don't you bring your fishing pole and throw a hook into the lake"? Well, I must admit, my reply wasn't very convincing. You see, old, seasoned, fishermen have heard ALL the fishing stories! They even have a few of their own to tell.
They're hard to convince and excuses don't stand up very well to their way of thinking. I'm not a big fan of "abuse-by-fisherman" so I had to resolve this and resolve it quickly. I can't drive to the lake to bring my fishing gear because this will disrupt my power walk, – solution, modify and down-size my fishing tackle.
I've recently purchased an ultralight, retractable fishing rod to replace the lightweight retractable rod that I carry in my hiking daypack. A fisherman's way of downsizing is buying a smaller fishing rod, and most of my fishing buddies agree with this concept, at least in principle.
I can't wait to give this new fishing-stick a go, but I also want to see the look on their faces when I show up again with no fishing pole and pull this retractable out of my daypack. They'll have a quick chuckle and get on my case for not having it in the water yet!
River Boots
Today, however, I have an ulterior purpose. I want their opinion on river boots. Not being at a loss for words, this simple question will quickly divert their attention from the easy comforts of fishing the lakeshore.
My river boots have long past their expiry date and I'm in the market for new ones. In my research, I've found that there are newer, improved versions. Isn't it always the case. The latest technical modification is removable soles and I'm eager to get their opinion on this.
I'll bring you back the results of this investigation in my next blog.
Comments, Questions, and Suggestions
If you have any comments, questions, or suggestions about these fishing stories or your own fishing stories, I would be pleased and even entertained to hear about them.
In addition to a good story, I also enjoy reading and hearing about your favorite fishing baits, lures and about the biggest fish that you ever caught.
Make my day and tell me a fishing story.