What are The Four Agreements
Getting Hurt will Slow You Down!
Last winter, when I should have been enjoying the great outdoors on the mountain, I injured my knee while working at my day job.
It didn't seem that bad at the time, but having said that, if I would have been cut in half and rolling around on the ground in a pool of blood, I probably would have been thinking something like this, " well at least, I only have 2 pieces to put together!".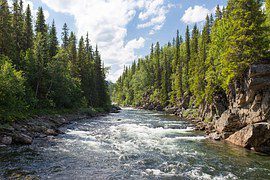 My day job was heavy construction, snow on the ground, cold, and lots of wind. This kind of bullet-proof attitude always gets me in trouble. I shake it off, wipe up the blood, drink some water, and get on with my life.
The problem with this way of thinking is that at the time, we're running on adrenaline, we are surrounded by all our friends, and we are constantly being bombarded with a "never say die", "keep going", and "work through the pain" mentality.
Well, I'll be the first one to admit that I've been there, dozens of times and this one, probably won't be the last. This little pain in my knee, soon grew into a bigger pain that just wouldn't go away. Finally, I had to get off my knee completely to recuperate.
This I was able to do religiously for all of 7 days. One measly week. After one week of this therapy, I just had to get off the couch and go outdoors. I decided to go walking. After all, walking was easy, I could control my speed and pace, and with time, all would be well again. For the most part, it turned out to be true.
A fact of the matter is that it took me almost 60 days before I could walk and involve myself in other physical activities comfortably without any pain what so ever. From this, I learned an important lesson, but I also increased my "patience quotient" by a factor of ten.
In addition to this newly acquired patience, I got to read a lot, not just e-reading but reading real books made of paper!
One of the books that I read during this period was a book called, " The Four Agreements ", by Don Miguel Ruiz. In The Four Agreements, Don Miguel Ruiz reveals to us, how self-limiting beliefs rob us of happiness and create a world of sadness for us.
The book is based on ancient Toltec wisdom and offers us a means to transform our lives into a new journey of happiness, freedom, and love. Enlightening and easy to read it goes on to describe The Four Agreements.
---
The Four Agreements
The First Agreement … Be Impeccable with your Word
Speak with Integrity and say only what you mean. Do not speak badly about yourself or gossip about others. Use the power of your word in the direction of truth and love.
The Second Agreement … Don't Take Anything Personally
What others do is not because of you. It is a projection of their dreams and their reality. When you refuse to accept the actions and the opinions of others you will free yourself of the "victim mentality" and avoid a lot of needless suffering in your life.
The Third Agreement … Don't Make Assumptions
Be brave enough to ASK questions and firmly state what you really want. Communicate with others clearly to avoid misunderstandings, sadness, and DRAMA. This exercise alone can completely transform your life.
The Fourth Agreement … Always Do Your Best
Your best effort will vary from time to time. When you are healthy and when you are sick you are going to produce a different effort, however, simply do your best and you will avoid regret, self-abuse, and self-judgement
---
In Conclusion
This small paperback contains less than 140 pages, yet it is filled with interesting stories and 4 solid principles to help you find peace, love, and freedom for your daily life. The freedom to be yourself. The only path to true happiness.
If you have any comments, questions, or suggestions about this book, The Four Agreements, and its content, please do not hesitate to bring them here so we can clarify any doubts you have about this book and its subject matter.