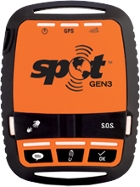 The SPOT™ Gen3 Satellite Messenger
Product Overview
The SPOT Gen3 provides location-based, emergency notification technology, and messaging that lets you communicate from remote locations all over the world.
It also offers motion-activated tracking and custom tracking interval options.
SPOT uses the GPS satellite network to determine your location and the Globalstar network of satellites to transmit messages and GPS coordinates to others.
When your adventures take you out of cell service, the SPOT GEN3 lets everyone know you are fine and that you are not in any danger.
With this small device, you are free to travel wherever you want and you'll never have to keep your friends and family "in the dark" again.
The SPOT GEN3's customized tracking features can upgrade your SPOT experience to the next level.
Only with SPOT GEN3, is tracking motion-activated regardless of the level of tracking you choose (Basic, Unlimited or Extreme).
The vibration sensor tells your SPOT Gen3 to send track updates when you are moving and to stop sending updates when you stop moving.
This is an excellent companion to pair with your compass and a reliable companion to bring along on your next adventure.
It can send emergency responders to your GPS location, all with the push of a button. When you carry this pocket-sized device in your essential gear, you are connected.
FEATURES
UNLIMITED TRACKING
"Set it and forget it".
You can pre-set your SPOT GEN3 to send tracks at the speed of you are traveling. You can modify your tracks to send every 5, 10, 30, or 60 minutes.
The SPOT GEN3 will send tracks at the rate you choose for as long as your device is turned on and moving.
Tracking doesn't stop until you do. There is no need to reset your device every 24-hour period.
EXTREME TRACKING
Get all of the great features of Unlimited Tracking, but with the added ability to vary your track rate down to every 2 ½ minutes. Don't miss a step with increased track rates!
Product Specifications
Height: 3.43″, 8.72 cm
Width: 2,56″, 6.5 cm
Thickness: 1″, 2.54 cmWeight: 4.0 oz, 114 g with Lithium batteries
Operating Temperature: -22°F to 140°F/ -30°C to 60°C
Operating Altitude: -328 ft to +21,320 ft / -100 m to + 6500 m
Waterproof Rating: IPX7, which is 1 meter for up to 30 minutes.
In addition to the above, it will operate at 95 – 100% Humidity and also comes with a Vibration Rating.
 Battery Type
4 AAA Energizer Ultimate Lithium
8x batteries (L92)
4 AAA Energizer® NiMH rechargeable batteries (NH12)
Line Power with a 5v USB connection
Longer Battery Life
More than 2x the battery life of the SPOT
Satellite GPS Messenger
Send 1,250 Check-In and Custom Messages
on a Single set of Lithium batteries
The following accessories are included with the SPOT Gen3 package.
strap
USB cable
carabiner
batteries
quick reference guide
Important tips
SPOT needs a clear view of the sky to obtain
a GPS signal and provide the most accurate
location information. It is not reliable
indoors, in a cave, or in very dense woods.
Orienting SPOT so that the SPOT logo is
facing up toward the sky will improve
performance as the antenna is located under
the logo.
Keep your SPOT at least 12 inches away
from other GPS devices.
Best Place to Buy: Amazon
Price: $147.09 price may vary in your country of origin.
Amazon Prime: Do not neglect this very important feature!
Rating: If it saves your life only once! … 5 out of 5
5 More Features of the SPOT Gen3
TRACKING
The SPOT Gen3's customized tracking features bring your SPOT experience to the next level. Tracking is motion-activated regardless of whether you choose Basic or Extreme Level. The vibration sensor tells your SPOT to send track updates when you are moving and to stop when you do.
S.O.S.
With the press of a button, GEOS International Emergency Response Coordination Center provides your GPS coordinates and information to local response teams, contacting 9-1-1 responders in North America and 1-1-2 responders in Europe.
The S.O.S. button is for emergencies only. 
CHECK-IN 
Let your family and friends know you're ok when you're out of cell phone range. You can send a pre-programmed text message with GPS coordinates or an email with a link to Google Maps™ to your contacts with your location.
You can also send a message via email or SMS to up to 10
pre-determined contacts and your waypoint is stored in your SPOT account for later reference.
Your stored waypoints can be integrated into a SPOT Shared Page or SPOT Adventure account.
HELP/SPOT S.O.V. (Save Our Vehicle)
You can also alert your contact people that you need help in non-life-threatening situations. Or, use SPOT S.O.V. for professional services on land. (Additional service required).
CUSTOM MESSAGE
Keep in touch while you are off the grid by sending a custom message. Set up a message before leaving to send to contacts with your GPS location. Use this feature as a secondary OK message or transfer your personal help alert to this message function if you are using a SPOT S.O.V. service on your Help button.
The Benefits of SPOT Gen3
FOR RESCUE … In an Emergency, users can send an SOS message to GEOS International Emergency Response Coordination Center (IERCC) by using the SOS button or dialing 9-1-1.
In non-emergencies, you can reach family and friends for assistance using SPOT Help/Assist
Check-In, with the touch of a button, users can let family and friends know that everything is OK and there is no need for alarm.
Track Progress, lets the user's GPS location to be transmitted in real-time via Google Maps™.
Messaging, you can send custom email/SMS messages to personal networks and post to Facebook and Twitter.
5714 Rescues to date!  (February 25, 2018)
The Drawbacks
This device needs a SERVICE PLAN to Operate 
Be very attentive to the Details of YOUR PLAN
PLANS vary with device
Your plan may be RENEWED without your Approval
This is so YOU DON'T END UP WITH A DEVICE THAT IS NOT CONNECTED!
Again … be aware of the plan you are on!
This device ALWAYS performs
The only complaints come from people that Do Not pay attention to their Activation Plan
Final Thoughts
The major complaint that surrounds this device is from people that are unaware of Basic Service Plans.
Before you purchase this unit check The Plan for YOU!
Any piece of equipment, technology or device that displays the number of rescues it is responsible for can't be all that bad. Their website today, (February 25, 2018 ), claims that the SPOT™ has 5714 rescues on its counter … a very real testimony about its effectiveness.
Comments, Questions, and Suggestions
If you have any comments, questions, or suggestions about the SPOT™ Gen3 Satellite Messenger, please do not hesitate to leave them in the space below.