What are these 7 things you should know about Hiking?
Here are the 7 simple things you should know about Hiking.
These 7 simple solutions to get you out-the-door are primarily aimed at beginners.
They are not for hard-cored Hikers and Walkers that have logged hundreds or thousands of miles or kilometers in wind, rain, and snow, … and have lived to talk about it!
If you are a hard-cored or advanced level Walker or Hiker, you are nonetheless, invited to read my blog and hopefully provide a comment or suggestion below.
1. What is Hiking?
Hiking begins as walking, and it is the easiest form of physical activity to get involved in, … especially if you're not a very active person, to begin with.
Hiking is walking!
Walking is placing one foot ahead of the other and repeating – slowly at first until you get warmed-up. Later on, as it becomes easier, and you get into better physical condition, you can pick-up the pace, to your heart's desire!
Don't make it complicated. You don't need any special knowledge or equipment.
Just open the door and go! … Now you're hiking!
Don't look back! … Just keep going!
2. What Do I Need To Go Hiking?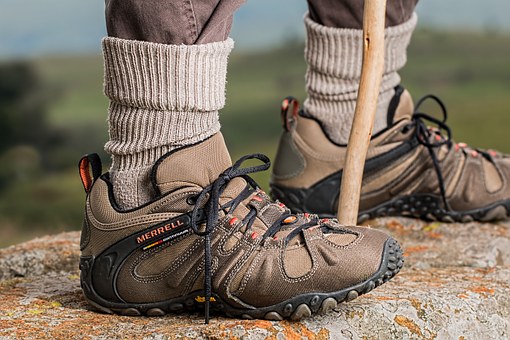 Unlike other sports or outdoor physical activities, hiking does not require tons of expensive equipment to get started.
You are already wearing the complete set of equipment you need for this sport.
Hockey, Football, and Skiing, all require dozens of pieces of expensive equipment. You put on your equipment, this morning when you got out of bed.
There you are – ready to go!
The only important piece of equipment for this activity is, without any doubt, is your footwear. The more comfortable your feet feel while you're walking, the more likely you are to continue.
The degree of comfort your feet experience while hiking will determine whether or not you continue walking and hiking as a form of physical exercise.
Do not neglect this one.
Even in your day to day activities footwear will give you bounce, or it will make you feel sluggish. This is even more so, if you are overweight and out of shape.
If you are an experienced Hiker, footwear has already been dealt with, and you may be fanatical about what you put your feet in.
3. Do I Need Special Clothing?
After your footwear, clothing is the next important consideration. It should be comfortable, non-restrictive and suitable for the season and location.
The time of year and where you are walking or hiking will require you to clothe yourself for this environment. Today's outdoor clothing is all about comfort and function.
Carry an umbrella, a poncho, or some light rain gear, if you think it may rain.
This is an easy one. Just look up into the sky!
Getting wet won't kill you, and you'll be less likely to forget your raingear next time you leave the house!
4. Do I Need To Eat Special Food?
The short answer is no!
The long answer is yes!
Now that you're ready to go, you will need fuel. Just like a car or an airplane, your body needs fuel, and this means food.
Even more important than food is water.
Intense physical activity requires lots of water.
Sweating is a cooling system, so water out – water in!
Old fashioned snacks like fruit, raw vegetables, hard-boiled eggs, and sandwiches, make it easy to fuel up and feel more energetic.
If you are overweight and out of shape, you're much better off to bring water than too much food.
This is especially true for your first short walks and hikes.
5. Do I Need A Backpack?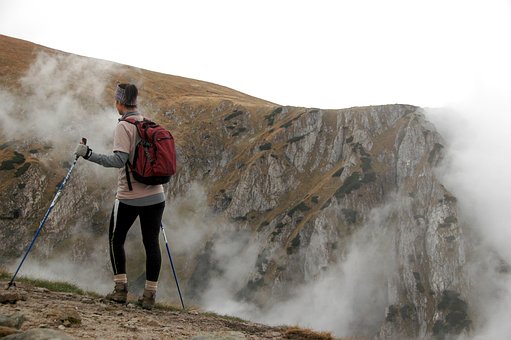 Not in the beginning.
Your first walks around the block, around the lake, or in the park can be done in what you're wearing right now.
Later on, when you transition from a walker to a hiker, a small backpack will help to carry the necessary items you need to increase your comfort and safety.
It should not be too big. It should be comfortable and have some external pockets for quick access to your items.
If your backpack feels heavy when you first put it on, … it is too heavy, so remove something from it.
Remember that this is a fun walk and not an expedition to Mount Everest.
6.What Can I Expect?
Learn to relax and to breathe properly.
Be aware of your surroundings.
Nature is full of wonder.
You will see mammals, birds, reptiles, amphibians, insects, and rocks and gems, to name a few.
Bring your binoculars, your camera, and your cell phone.
7. More Stuff
Be very cautious about this great deceiver!
More stuff is what fills your backpack. It is what makes your backpack heavy and uncomfortable. It is what will ruin a good day!
Do not carry this Imposter on your back.
Now that you are aware of what "stuff" is,
here are a few important and useful things to bring with you.
a knife
a lighter
a headlamp
clothing for the local weather conditions
your own personal items
Personal Thoughts
Walking and Hiking have become one of my favorite outdoor activities. They can be paired with almost all land-based outdoor sports.
Walking and Hiking can pair with camping, fishing, gold-panning, and photography. As a matter of fact, it can pair with almost anything.
As you gain experience you'll feel more comfortable and enthusiastic.
All these wonders of Nature are yours to enjoy, and they are absolutely free!
Comments, Questions, and Suggestions
If you have any comments, questions, or suggestions about Walking or Hiking, do not hesitate to leave them in the space below.
I welcome all your thoughts and ideas on ways to make this fascinating outdoor activity more pleasurable.